Apple Cinnamon Pizza - Yum!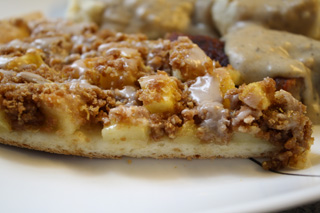 Once upon a time, I was walking through the grocery store's frozen foods section and happened across this delightful concept called the Sunday Brunch Pizza (or breakfast pizza). One of the breakfast pizzas looked particularly intriguing: apple streusel. I love apple pie and I love pizza, so combining the two ideas together was an exciting concept for me!  I bought one and paired it with my homemade biscuits and gravy recipe!
Sadly, for the last few months, our grocery store has stopped selling these delightfully easy to make and delicious breakfast pizzas.  I mourned their loss and began the search for my own way to make an apple cinnamon breakfast pizza.  I happened across a couple of recipes that looked pretty easy and decided to give it a try.  The best part, the ingredients are so basic I didn't even have to go to the store to pick anything up!  Check it out.
Ingredients:
2-3 large apples, Braeburn or your choice
2 tbsp margarine
1 pizza crust (Betty Crocker pizza crust mix)
1/2 cup hot water
1 tablespoon cinnamon
1/3 cup quick oats
1/3 cup dark brown sugar
1/3 c flour
4 tbsp margarine
1/2 cup powdered sugar
1 Tablespoons milk
1 teaspoon vanilla

Directions:
Peel and chop two to three cups of apples. Then, saute the apples in a medium frying pan with 2 tablespoons of margarine until tender, about 8-10 minutes in medium-high heat.

Preheat the oven to 350F. While the apples cook, start making the pizza crust. Combine the pizza crust mix with 1/2 cup hot water in a medium bowl. Mix about 20 times and knead until dough forms a ball. Cover and allow 5 minutes to sit.

In a separate bowl, combine the cinnamon, oats, brown sugar, and flour in a bowl. Mix until well combined. Cut the margarine into slices and add to the cinnamon mixture. Then mix with a pastry cutter (or long-tined fork).

Spray and flour a 12-inch pizza pan. Then press dough onto the pan. Top with apples. Then sprinkle on the cinnamon mixture. Bake for 20-25 minutes or until crust gets golden brown.

Take pizza out of the oven when done and allow to cool for five minutes.

Meanwhile, start making the icing. In a small bowl, combine the powdered sugar, milk, and vanilla. Drizzle with a spoon over the pizza.

Serve your Apple Cinnamon Dessert Pizza with your favorite breakfast or eat it all by itself! Enjoy!
Schema Image: