Bacon Blue Cheese Stuffed Mushrooms with Mornay Sauce!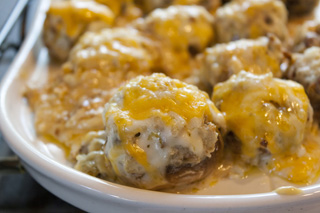 One of the hands-down best appetizers to order at Grandma's Restaurant is their Stuffed Wild Rice Mushrooms. When our 2013 Appetizer Contest winner Alejandra A. suggested Bacon and Blue Cheese Stuffed Mushrooms, I knew we had an amazing opportunity at hand. Combine her recipe for stuffed mushrooms with Grandma's Restaurant's idea for a cheesy Mornay sauce over the top. Can it get any better than this? Check it out!
Ingredients for Stuffed Mushrooms:
1 package mushrooms (portobello or white cap button)
4 strips bacon
4 oz blue (or gorgonzola) cheese crumbles
3-4 oz cream cheese, room temperature
1/4 Panko bread crumbs
1/2 medium onion, diced

Directions for Stuffed Mushrooms:
Preheat the oven to 350F. Fry up the bacon until crispy. Crispier is better than chewy and you want the bacon to crumble.

While the bacon is cooking, start removing the stems from your mushrooms (if using the button mushrooms; portobello were fine as they were). I found the easiest way to do it was to just pull it out with my hand (as opposed to cutting it out). The more of the stem you can get out, the more room you will have to stuff the mushroom. Place the destemmed mushrooms on a cookie sheet (ideally with sides as my mushrooms liked to slide around a bit).

Chop up the removed mushrooms stems into small pieces and place in a medium bowl. Set aside.

Dice about half an onion (we prefer yellow or sweet vidalia). When the bacon is done, place it on some paper towels to cool. Then use the extra bacon grease from your pan to saute the onions for about 3-5 minutes, or until tender.

To your cut up mushrooms stems, add the blue cheese crumbles, cream cheese, onions, and Panko breading. Crumble the bacon into the mixture. Stir until just combined.

Use a small spoon to scoop the stuffing into the destemmed mushrooms. Top each stuffed mushroom with Panko breading. Then, cook for 15-20 minutes or until the mushrooms and breading start to brown.

Ingredients for Mornay Sauce:
1/4 cup butter
1 clove garlic, minced
2 tbsp onion, diced
1/4 cup flour
1 cup chicken broth
1 cup heavy cream
1/2 tsp freshly ground pepper
1/2 cup Asiago (or Parmesan) cheese, freshly grated
1/2 cup extra sharp cheddar, grated (last step)

Directions for Mornay Sauce:
While your mushrooms cook, let's whip together a simple mornay sauce. Start by putting the butter, onion, and garlic into a medium pot. Melt the butter and saute the onion for about 2 minutes.

Then add the flour and mix together until well-combined. This flour-butter mixture is called a rue (or roux) and is essential to your sauce thickening.

In a measuring cup, combine the 1 cup chicken broth with 1 cup heavy cream. Pour half of it into the rue and stir, keeping the burner on medium-high. When it thickens, add the remaining cream-broth mixture and stir.

Finally, add some freshly ground pepper and grated Asiago (or Parmesan) cheese and stir frequently. Your sauce should finish around the same time as your mushrooms.

Final touches on the Stuffed Mushrooms:
With the sauce ready and the mushrooms cooked, it's time for the finishing touches. Pour about 1 tablespoon of Mornay sauce and some grated cheddar on each stuffed mushroom. Broil for 3-5 minutes or until the cheese is brown and bubbly. Serve immediately!

These tasty, cheesy covered mushrooms won't last long so make sure you have enough for everyone. Enjoy!
Schema Image: