Basil Cream Sauce with Pasta!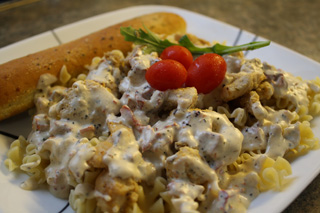 I had a craving for a cream pasta sauce, but wasn't feeling the Alfredo I normally whip up so I decided to search for something else.  When I came across the Basil Cream Sauce I knew that was going on my dinner!
I rummaged through my cupboards and was able to pull together all the ingredients I need to make this amazing sauce!  Let's get to it!
Ingredients:
1 tbsp olive oil
2-3 cloves garlic, minced
1/2 cup chicken broth
1 1/2 cups fat free half-and-half
4 oz less fat cream cheese, cubed
1/4 cup sun-dried tomatoes, chopped
1/2 cup Romano cheese, grated
1/2 cup Asiago cheese, grated
Basil to taste (fresh is best; dry will work)
Freshly ground black pepper, to taste

Directions:
Add the olive oil and garlic to the pan. Cook for 1-2 minutes over medium heat. Add the chicken broth to the skillet. Bring to a boil over medium-high heat and stir.

Stir in half-and-half and sun-dried tomatoes. Bring to a boil and stir for 1 minute. Add the cream cheese and stir until melted. Reduce heat.

Add Parmesan cheese, basil and pepper. Stir sauce and cook until heated through.

If sauce is too thin, cook longer. If sauce is too thick, add more half-and-half.

This rich sauce worked well with some lemon seasoned chicken and malfalda noodles. Add a breadstick and side salad and you have a complete meal! Enjoy!
Schema Image: