BBQ Chicken Pizza!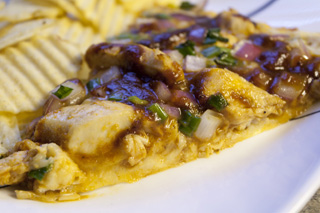 Who doesn't love pizza? It's easy to throw together and you can meet a variety of people's desires with different toppings. Thus, it just makes sense to have a few blog posts about this incredibly versatile meal!
In our travels, we have come across a wide variety of pizza types. The first key to a good pizza is a solid crust. Our preference is for a medium crust: not as thick as deep dish but not as thin as a frozen pizza. Once we have our base, it's time to pick a sauce. We are of course familiar with the traditional marinara sauce, but don't be afraid to experiment! We've used everything from pesto to Alfredo sauce to BBQ sauce to get the just the right flavor for our pizza. After that, you get to pick your favorite cheeses, meats, and toppings to make this pizza perfect.
Today, we will learn how to make an incredible homemade BBQ Chicken Pizza! Check it out.
 

Ingredients:
1 cup chicken, diced
1 tbsp olive oil
1 pizza crust (Betty Crocker pizza crust mix)
1/2 cup hot water
1/3 cup BBQ sauce (or as much as desired)
1 tbsp olive oil
1/2 cup green onion, chopped
1/2 cup red onion, chopped
1 cup shredded mozzarella
1 cup shredded cheddar
butter spray (like Pam)
flour

Directions:
Start by washing and cutting the chicken. Cook on medium in about 1 tbsp of olive oil and some BBQ sauce until chicken is cooked (aka white all the way through). Be careful not to burn the BBQ sauce as sugar-based ingredients burn more easily. When the chicken is done, set aside.

Preheat the oven to 350F. Mix the hot water and Betty Crocker pizza crust mix. Set aside for 5 minutes as per the directions.

Chop the green onions. Red onions can be diced or sliced. Cook the onions in olive oil for about 2-3 minutes. They will continue to cook in the oven, so they don't need to be cooked until tender.

Prepare your 12" pizza pan with the butter spray. Then sprinkle some flour on the pan. Over the sink (so you don't make a mess), tap the sides of the pan with your hand to help the flour spread evenly.

Push the pizza dough onto the pan. Tip: I used a Pampered Chef Baker's Double Roller to push the dough evenly across the pizza pan.

Spread the BBQ sauce evenly across the dough, leaving about 1/2" around the edges. Then top with the mozzarella and cheddar cheeses. Add the chicken and onions. Finally, sprinkle some BBQ sauce on the top of the whole pizza. Cook for about 9-12 minutes or until the cheese is melted.

Enjoy your pizza fresh out of the oven! This pizza makes for wonderful leftovers and goes great with salads, chips, or wings. Have fun!
Schema Image: