Beef Stroganoff - The Best in Comfort Foods!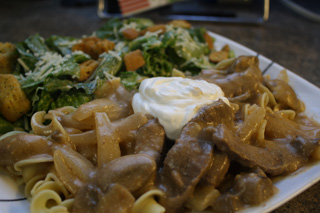 Betty Crocker really does have it all for the Best of Homecooked Comfort Foods.  If you don't own your own copy of Betty Crocker Cookbook, you should go buy one!  But in the meantime, you must at least have access to this recipe: Beef Stroganoff.
It's simple, delicious, and ready in roughly 1 hour.  Check it out!
Ingredients (for 6 servings):
1.5 lb beef tenderloin or boneless top loin steak
2 tbsp butter or margarine
1.5 cups beef broth
2 tbsp ketchup
2-3 cloves garlic, pressed
8 oz fresh mushrooms, sliced
1 medium onion, sliced
1/4 cup flour
1 cup sour cream
4-6 servings egg noodles

Directions:
Put the beef in the freezer for 20-30 minutes, or until partially frozen, to make cutting easier. Then slice the beef into 1.5" by .5" strips.

In a medium saucepan, melt the butter over medium-high heat and brown the beef.

Reserve 1/3 cup broth. Stir in remaining broth, ketchup, and garlic into the beef. Heat to boiling. Then cover, reduce heat, and cook for about 10 minutes, or until beef is tender.

Stir in the mushrooms and onion. Cover and cook for about 5 minutes or until onion is tender.

Meanwhile, boil noodles for 6-10 minutes or until tender.

Whisk 1/3 cup broth and flour (or combine in a tightly covered container and shake) until well mixed. Gradually pour the flour into the beef mixture. Heat to boiling, stirring constantly, for about 1 minute. Then reduce heat to low. Stir in the sour cream and heat until just warmed.

Serve the beef mixture over the cooked pasta with your favorite side. This hearty meal will keep you full for hours! Enjoy!
Schema Image: