Best Ever Bloody Mary (with a snit)!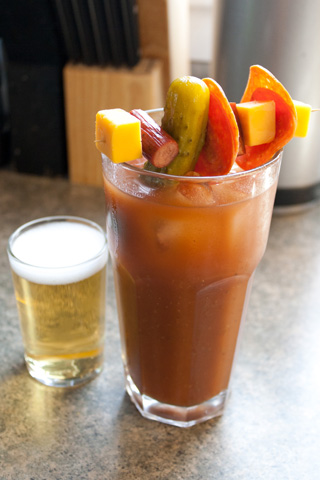 It's summer and that means there are vacations to enjoy and drinks to be had! One of my favorite cold drinks, best served in the morning with a pile of assorted meats and cheeses, is the Bloody Mary. Now, if you're from the Midwest and order a Bloody at the bar, chances are you will get a "snit." Apparently this is not the case everywhere, so before we go into my favorite homemade recipe for Bloody Mary's, let's break down the term snit.
A "snit" is defined as:
1. "A U.S. unit of volume for liquor equal to 2 jiggers, 3 U.S. fluid ounces, or 88.7 milliliters"
2. "A beer chaser commonly served in three-ounce servings in highball or juice glasses with a Bloody Mary cocktail in the upper Midwest states of United States including Minnesota, Wisconsin, Iowa, and Illinois."
Typically the snit served with a Bloody Mary is whatever cheap brew is on tap (Miller, Bud, Leine's, etc). However, some bartenders will gladly accommodate so don't be afraid to ask. Now on to the recipe! As anyone worth their salt knows, a good Bloody Mary starts with a stellar tomato juice base. Casa de Lindquist recommends Zing-Zangs as hands down the BEST Bloody Mary mix we've had so far.
Ingredients:
Ice
Zing-Zangs Bloody Mary Mix
Vodka (Svedka is quality cheaper vodka if you're on a budget)
Worcestershire sauce
Pickle juice
Cajun seasoning
Celery salt
Hot sauce (optional)

Directions:
Take out a tall glass and add the ice. I usually fill my glass about 2/3 full of ice. With the ice in the glass, pour the vodka in until it is about 1/3 full (about 2-3 oz). Then, add the Zing-Zangs Bloody Mary Mix leaving about an inch or so of room at the top of the glass.

Pour in the Worcestershire sauce (1-2 shakes), pickle juice (1-2 tsp), Cajun seasoning, and celery salt to taste. Stir all ingredients together.

Now for the fun part! I just used two regular sized toothpicks and held them together with a cheese cube in the middle. Then I added pepperoni, cut up beef stick, pickles, and more cheese cubes to each side of the toothpicks to top off my Bloody Mary. Yum!

This meal in a glass is great for hangovers, brunch, or just hanging out. Don't forget your favorite beer snit! Enjoy!
Schema Image: