The best Lasagna ever! (or at least, the best I've ever had...)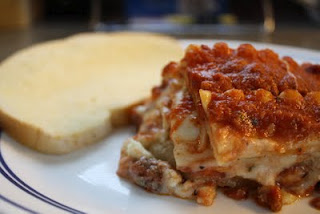 My mother has always made the BEST lasagna I've ever had. Whenever we went to a restaurant or over to someone else's house and they were serving lasagna, it just never compared to my mom's homemade lasagna. The sauce wouldn't be quite right or there wouldn't be enough cheese or, worst of all, there would be sausage in the lasagna! I mean, sausage?!
One day, my mother showed me the secret to her amazing lasagna and now I shall pass that secret on to you!

The first key is to make the sauce from scratch.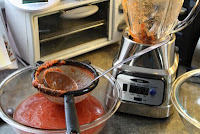 Sauce Ingredients
28 oz of canned tomatoes (they can be tomatoes you have canned or store bought)
6 oz can of tomato paste
Italian seasoning
Salt and pepper

Sauce Directions
Strain the canned tomatoes into a large bowl leaving only the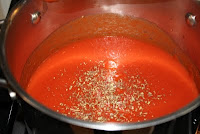 juices. Tip: I like to throw the canned tomatoes in the blender for a few seconds then strain it in a basic wire strainer. It's a quick and efficient way to get all the juices.
Once you've finished straining your tomatoes, pour the juices in a large pot and add the tomato paste and seasoning. Stir until smooth. Then cook on low for about 30 minutes, stirring occasionally.

Lasagna Ingredients
Homemade sauce (see recipe above)
1 box of lasagna noodles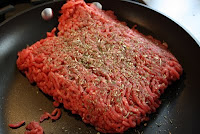 1 lb ground beef (extra lean)
12 oz mozzarella, sliced
2 eggs
1/3 cup grated parmesan
15 oz fat free ricotta
15 oz fat free cottage cheese
Parsley flakes

Lasagna Directions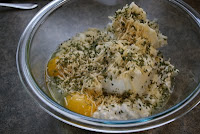 Preheat the oven to 350 degrees F.
While you're making the homemade sauce, put water into a large pot and heat to a rolling boil.
Next, add some spices to your ground beef. I'm a fan of Italian seasoning, salt, and pepper, but feel free to experiment!. Then, cook the ground beef and drain the extra juices. When the beef is done and the sauce is ready, pour the meat into the sauce and stir. Allow to simmer while you prepare the rest of the dish.
Slice 12oz of mozzarella thinly. You will need approximately 42 slices of cheese to cover a 9" x 13" pan adequately.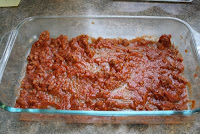 Next, combine the two eggs, parsley flakes, parmesan, ricotta, and cottage cheeses in a large bowl and mix with a blender.
When everything is done cooking, you are ready to assemble the layers. Get out a 9" x 13" baking pan, preferably glass. Start by adding a small amount (about 1/2 a cup) of the meat sauce to the bottom of the pan. Spread evenly. Then add a layer of noodles. You will want the noodles to overlap about one inch so that the dish will hold its shape when cut. It will usually take about 5-6 noodles to do so.
Add half of the cottage cheese mixture to the top of the noodles and spread evenly. Then carefully space out the mozzarella cheese to cover the dish (about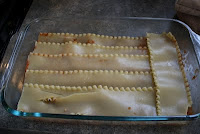 seven slices by three slices). Add a second layer of meat sauce, noodles, cottage cheese, and mozzarella slices. Finish the dish with a small layer of sauce on the mozzarella cheese, a layer of noodles, and a final layer of sauce. Make sure the top is fully covered in sauce*, or the edges of the noodles will burn.
Place in the oven on a middle rack and cook for about one hour. Remove from oven and allow to set for about 5 minutes before serving.

*Tip: if you get to the top layer and you are running low on sauce, it is ok to open a can of whatever plain spaghetti sauce you have around and mix it to your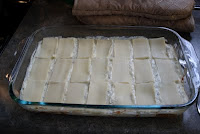 homemade sauce. It will taste just fine and it's important to have enough sauce to cover the top layer. :)

I usually have a small, side salad and some garlic bread with this meal! It's a really incredible lasagna full of flavor from the homemade sauce to the seasoned meat to the cheeses. It also makes amazing leftovers that are almost better the second day!

If you're a fan of garlic bread, a quick and easy way to make some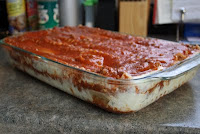 at home is to buy some Italian bread from your local bakery. Get out a piece of tin foil large enough to wrap around however many slices of bread you're using. Then butter one side of each slice you're going to make and add some garlic salt. Make sure that the end slices are buttered on both sides. Wrap the tin foil around the buttered bread and bake with the lasagna for the last 20 minutes. The bread will have toasty crusts and melted garlic butter centers. It's a really quick and easy way to make amazing garlic bread!

Enjoy your lasagna! :)
Schema Image: