Buttermilk Pancakes from Scratch!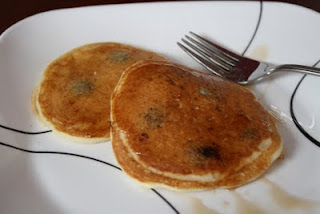 There was nothing quite like mom's weekend breakfasts growing up. She would make pancake batter from scratch (I didn't even know about boxed batters until I was in high school) and whip up a stack of the perfect-sized pancakes. Then we would complete the meal would scrambled eggs & cheese along with some bacon! There is nothing quite like a few strips of crispy bacon to go with pancakes smothered in syrup.
That being said, I often try to share this favorite recipe with guests at my house. So far, all have been satisfied with these easy to make and tasty pancakes!

Ingredients
2 eggs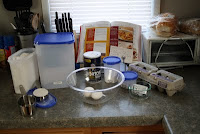 1 tbsp sugar
1 1/2 cup flour
1 1/2 tsp baking powder
1/2 tsp baking soda
1/2 tsp salt
3 tbsp melted butter
1 1/2 cups buttermilk*
*If you don't have buttermilk at home and don't want to make a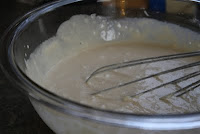 trip to the store...
-1.5 cups of regular milk (I have used skim before)
-1.5 tbsp of white vinegar
Combine the milk and vinegar and let sit for five minutes. This "soured milk" recipe tastes a very similar to buttermilk and works out great! It's not as thick, but the pancakes taste the same.
Instructions
Beat the eggs with a whisk until fluffy. Then add the remaining ingredients and mix until well-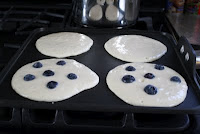 blended.
Put a frying pan or griddle on the stove and heat. TIP: a quick way to check if the pan is heated and ready to go is to sprinkle some water on the pan. When the water sizzles and evaporates, the pan is about the right temperature for starting your pancakes!
Add a medium scoop (about 1/8 cup of batter) to the pan. When the pancakes start to bubble, flip them over and wait about 30 seconds to one minute for the other side.
Note: if you try to flip the pancakes too soon, they will break apart and make a mess.
If you have some blueberries around, they make a great addition to the pancakes. Prepare the batter as directed and wash some blueberries. After you pour the pancake batter onto the pan to cook, place the blueberries on the uncooked side. When you flip the pancakes over to finish cooking them, the blueberries will bake right into the batter. They taste amazing and you will always get however many blueberries you want in your pancakes!
Schema Image: