Chili con Queso Dip from Scratch!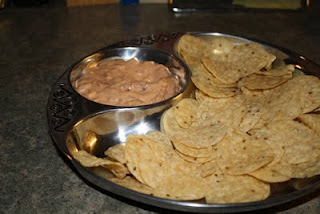 My friend bought me a "Taste of Home Slow Cooker Recipe Cards" book after getting me an awesome slow cooker as a present. Having never used a slow cooker before (aka crock pot), I started sifting through the recipe book hoping to find something simple and tasty.

That is when I came across a recipe for Chili con Queso Dip. My husband and I both love Mexican-style food and were excited after reading the ingredients to try this dip. At first I thought it might taste like the store-bought stuff (you know, the exceptional slimy cheese in a jar?). However, after it started melting together, it was obvious that it was more of a cream dip and less of a fake cheese dip.

It has a hint of spice to it (namely from the chili powder), but is also ch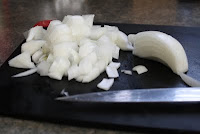 eesey in a creamy sort of way. It is an excellent dip for parties or for fun. It refrigerates and reheats well, making it easy to save for later.

Ingredients
1 can (14-1/2 ounces) no-salt-added diced tomatoes
1 can (10-14 ounces) diced tomatoes and green chilies
1 small onion, chopped
1 teaspoon olive oil
2 garlic cloves, minced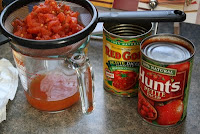 1 package (8 ounces) fat-free cream cheese, cubed
6 ounces reduced-fat process cheese (Velveeta), cubed
1 teaspoon chili powder
2 tablespoons minced fresh cilantro
Bite sized tortilla chips

Directions
Pour both cans of tomatoes into a colander over a small bowl; drain, reserving 1/3 cup liquid. Discard remaining liquid or save for an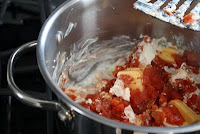 other use.
In a large skillet, saute onion in oil until tender. Add garlic; cook 1 minute longer. Stir in cream cheese until melted. Add the tomatoes, process cheese, chili powder and reserved liquid. Cook and stir over low heat until cheese is melted. Stir in cilantro.
Keep warm; serve with tortilla chips. Yield: 3 cups.

This dip is absolutely incredible! Easy to make, stores well, and tastes great. I hope you enjoy it as much as we do around here.
Schema Image: