Chocolate Cake in a Shot Glass - Great Looking Desserts!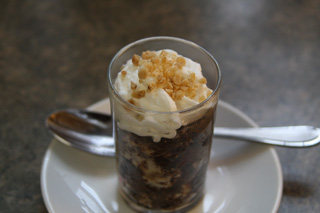 One of our favorite places to eat serves these incredible desserts in tall shot glasses and tops them off with whipped cream. I figured it couldn't be too hard to make so I set out to find the ingredients.
I just happened to have some chocolate cake lying around, so I thought I'd try my hand at these cute little desserts in a single-serving size cup. They were incredibly easy to make and would be great for a wedding or dinner party!
Ingredients:
1 already made Best Darned Cake ever (see Recipe)
1 container spray whipped cream
1 bag toffee pieces
Directions:
Spoon the chocolate cake with cream cheese frosting (or cake of your choice) into a large shot glass. Top with whipped cream and toffee pieces. Serve on a sauce with a spoon.
One cake makes about 25-30 servings.
Your guests will be in awe of the tiny desserts! Enjoy!
Schema Image: