Chocolate Chip Banana Bread and Muffins!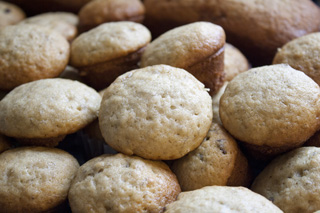 We love banana bread around here! We just can't get enough of it. In fact, whenever I make it, I end up eating entirely too much of it! That's ok, though. It has bananas in it, so it's healthy, right? ;)
The last time we made banana bread we decided to add some mini chocolate chips and do a batch of mini muffins as well as a couple small loaves of banana bread. The muffins were convenient for a quick on-the-go snack and the bread was great with breakfast. Plus, who doesn't love a little chocolate?! Seriously, people who don't like chocolate, I just dont know about them. ;)
Anyway, back to the point. Banana bread / muffins are amazing! So let's get to the recipe!
Ingredients:
3 eggs
1 1/4 cups sugar
1/2 cup vegetable oil
2 1/2 cups flour
1 tsp baking soda
3/4 tsp salt (or less)
1 1/2 cups bananas, brown (roughly 3 large bananas)
1 cup chocolate chips (Casa de Lindquist recommends the mini chocolate chips)

Directions:
Beat the eggs until fluffy. Then mix in the sugar and oil.

Next, beat in the flour, baking soda, and salt.

Peel the bananas and mix into the batter. Finally, add the chocolate chips.

Tip: when our bananas are past the point where we want to eat them, we put them in the freezer to use for banana bread later. If you use frozen bananas, put them in a microwave safe bowl and microwave them on low power until they are soft enough to get the peel off.

Bake at 350F for about 18-22 minutes (or until golden brown on top) for standard sized muffins.

As I write this blog post, I am enjoying one of my freshly made banana muffins. The great thing about these tasties is you can heat them up and add some butter or just eat them plain. Truly, they are scrumptious! Plus, they are a great addition to breakfast. Just cook up some eggs and serve with a warmed muffin. Mmmm... delicious!

 
Schema Image: