Classic Chicken Casesar Salad (for those hot summer days)!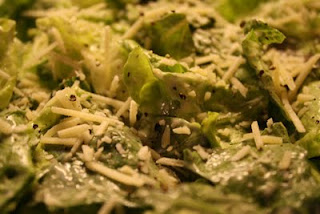 It has been unbearably hot in the great mid-west. Anything about 70, especially if humidity is involved, is too much for me! So I've been trying to come up with ideas that avoid the oven and minimize the use of the stove. Fresh fruits and raw vegetables have been great for snacking on. However, meals are a bit trickier.
That's where salads come in. There is just so much that can be done with various combinations of lettuces, spinach, carrots, tomatoes, mushrooms, craisins, almonds, and dressings (from creamy to oil-based). One of our favorite salads around here is a Classic Chicken Caesar! Now, traditionally a Caesar salad has lettuce, parmesan cheese, caesar dressing, and croutons, but every once in a while it's fun to add tomatoes, carrots, mushrooms, etc to the salad.
Ingredients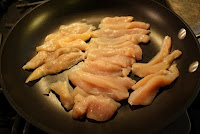 1 package of boneless, skinless chicken breasts
2 tbsp Zesty Italian dressing (or olive oil with salt and pepper to taste)
1 head of Romaine lettuce, washed and torn
Parmesan cheese, freshly grated
creamy Caesar dressing
croutons (I'm a fan of garlic cheddar; my husband likes sea-salt and pepper)
Additional Ingredients to Consider
tomatoes, diced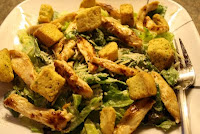 cucumber, diced
carrots, sliced or grated
Directions
Wash and cut the chicken. Marinate the chicken in the Italian dressing for a few minutes. Then cook it in a frying pan over medium-high heat. When the chicken is fully cooked (golden brown on the outside, white on the inside), put it aside and assemble your salad.
In a salad bowl or plate, place 2-3 cups of lettuce. Top with the cheese and dressing and mix well. This helps spread the dressing to each lettuce leaf. Next, add the croutons. Finally, add the chicken.
If you want a non-traditional but still tasty salad, add tomatoes, cucumbers, carrots, and/or mushrooms.
It's a great way to have a home-cooked meal without using the stove too long! Enjoy!
Schema Image: