Coconut Curry and Cashew Crusted Fish!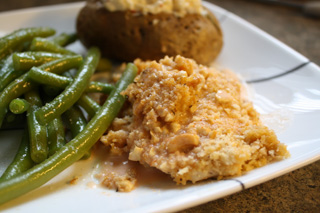 Do you love sweet curry sauce? How about cashews? Everyone loves cashews right? Well, then this is the fish recipe for you!
As part of our CSA (Community Supported Agriculture), we get a frozen package of whitefish every now and then. The fish itself is about as boring as its name... that is, until you add flavor to it! That's where this A-MA-ZING recipe comes in. The sweetness of coconut milk blended with the spicy flavor of red curry poured over crunchy cashew and panko breading. What's not to love? Check it out!
Ingredients:
4 fish filets
1/2 cup cashews
1/2 cup panko bread crumbs
1 tbsp flour
salt and pepper to taste
14 oz can coconut milk
2 tbsp red curry paste
1 tbsp brown sugar

Directions:
Preheat oven to 375 F. In a resealable bag, combine the cashews, panko, and flour. Remove the air from the bag before sealing. Then use a rolling pin to crush the mixture.

Whisk together the coconut milk, red curry paste, and brown sugar in a medium bowl. Set aside.

Spray a baking pan. Salt and pepper the fish before baking for 5 minutes. Remove from the oven and pour about 1/8 of the coconut curry mixture over each fish. Top the fillets with the crushed cashew mixture. Return to the oven and bake for 5 to 10 minutes, or until the crust is golden brown.

Meanwhile, prepare your sides. Casa de Lindquist recommends serving this dish with steamed green beans and a baked potato.

When the fish is cooked and the crust is golden brown, pour more of the coconut curry mixture over the fish as desired. It makes for a delightfully delicious sauce. Enjoy!

Remove from the oven and allow to stand 10 minutes before serving.

 

 
Schema Image: