Creamy Chicken Wild Rice Soup (even though it's summer, I still love soup!)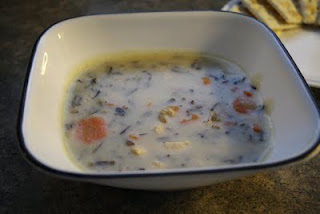 I love creamy soups! Cream of chicken, cream of mushroom, cream of kale even! They are all so wonderful! My love of soup used to be confined to researching restaurants who had some kind of creamy chicken wild rice soup, testing their soup, and comparing to my previous experiences. There were two restaurants around here that made incredible creamy chicken wild rice soups. However, the one close to my house only serves it sometimes... and I never seem to be there the day they're making it. The other restaurant takes about 40 minutes to get to. Now, I'm willing to travel for food, but...believe it or not, there are limits to how often I can go up the Shore for soup! So, the new dilema: can I make my favorite soup in the whole wild world at home?

I searched high and low for a recipe that included some key ingredients: wild rice (duh), chicken (double duh), carrots, broth (some recipes use water! can you believe that?), and cream. I found two recipes that were very similar in nature with some small differences. I decided to try a combination between the two and I was able to create this amazing, thick, creamy chicken wild rice soup!
 
 

 

 

 

 

 

 

 

 

 

 

 

 

Ingredients
2/3 cup uncooked wild rice
2 tablespoons butter
2/3 cup chopped onion
2/3 cup chopped carrot (or one cup if you like carrots as I do)
6 cups reduced-sodium chicken broth
salt and pepper to taste (about 1/2 tsp of each)
3 cups boneless, skinless chicken breast, cubed and cooked in 1 tbsp of olive oil
1/3 - 1/2 cup all-purpose flour*
1 cup cream

*Note: The amount of flour and cream you use will depend on how thick you like your soup. I like mine extra thick, so I usually use 1/2 cup of flour. For a medium thick soup, use 1/3 cup.

Directions
Rinse the wild rice. Then cook the wild rice according to the package directions (takes about 40 minutes).
Meanwhile, rinse and dice the chicken. Then cook the chicken in a frying pan with olive oil, salt, and pepper until it is just cooked (i.e. white on the outside but not pink on the inside). Do not overcook the chicken as it will continue to cook in the soup mixture.
Next, in a large saucepan (aka "cooking pot"), cook the onion and carrot in butter for 2-5 minutes or until tender. Stir in the broth, salt, and pepper. Then bring it to a boil. Reduce heat; cover and simmer for 10-15 minutes.
Drain rice if necessary; fluff with a fork. Stir chicken and rice into the broth mixture and cook on low heat for about 5 minutes.
In a liquid measuring cup, whisk the flour and cream until smooth. Gradually stir into soup. Bring to a boil; cook and stir for 2 minutes or until thickened.

If the soup does not thicken to your desire, whisk together more flour and cream until it forms a paste (about 1 tbsp flour to 2 tbsp cream). Stir into the soup and wait a couple more minutes until soup thickens. Repeat if soup is still not thick enough.

There have been times where I made the soup thick the first time around and other times where I had to do a flour & cream mixture up to three times before the soup thickened correctly. It requires some patience and willingness to experiment, but the soup is so incredibly flavorful that it is definitely worth it!

I hope you enjoy your very own creamy chicken wild rice soup!
Schema Image: