Crockpot Whole Roasted Chicken and Gravy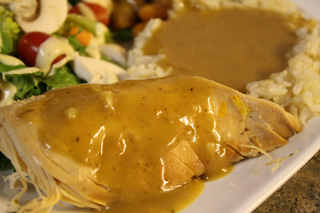 You may have noticed based on many of our blog posts that we love meats and gravy around here. Maybe it's a midwest thing, maybe it's a comfort food during the dead of winter thing, or maybe mom just didn't feed me enough of it growing up. Who knows? One thing is for sure, we are always looking for recipes in which we have an excuse to make gravy.
Normally, I would eat my chicken and gravy with mashed potatoes, but the hubby wanted me to try this recipe with rice. I gave it a shot, and I was not disappointed. Who knew chicken and gravy could be so tasty on rice?! Yum!
In addition to our love of meats and gravies, we are also a fan of using the Crockpot to make meals. Really, what's better then chucking something in a Crockpot and coming home to a cooked meal? It's a beautiful thing. So this week's installment of Casa de Lindquist recipes contains our *new* favorite way to cook a whole chicken (which we keep getting from our Community Support Agriculture that we joined). Check it out!
Ingredients for the Chicken:
1 whole chicken, thawed
4 tabs of butter or margarine
orange or lemon zest
1 onion, sliced
1 bag baby carrots
Spice to taste with: ground sage, garlic , rosemary, thyme, paprika, and Montreal Chicken seasoning
1 cup chicken broth

Directions for the Chicken:
Rinse the chicken and remove the neck, gizzards, etc. Set aside.

Soften the butter until it is spreadable but not melted. Mix in the orange or lemon zest. Pull back the skin of the chicken and rub the butter underneath. This will add a citrus flavor to the chicken and make the skin tasty.

Combine the spices in a small bowl. Then sprinkle on the chicken, patting them to help adhere them to the skin.

Finally, place the chicken, carrots, and sliced onions in the Crockpot. Add the chicken broth. Cover and cook on low for 8-10 hours.

When the chicken is done cooking, we found that it "fell apart" as opposed to being able to scoop the entire chicken onto a serving platter. We ended up putting the chicken in a large baking pan and picking out the bones until only the meat remained. It was a little bit putzy (seriously, some of those bones are tiny), but it is a great job for your kitchen helper to do while you make the gravy. ;)

Ingredients for Chicken Gravy:
1 cup chicken liquid (from Crockpot)
1/2 cup milk
1/4 flour
1 cup chicken broth (or 1 chicken bouillon cube with 1 cup hot water)

Directions for Chicken Gravy:
After the chicken has cooked for 8-10 hours, scoop about 1 cup of the chicken juices from the Crockpot and put into a large saucepan. Bring to a boil and reduce by at least half, about 10 minutes on high heat.

Whisk the milk and flour in a measuring cup. Then slowly whisk the milk mixture into the chicken liquid until gravy thickens to a paste-like consistency.

Finally, reduce heat to medium and slowly whisk in the chicken broth. Keep on medium heat until gravy thickens again. Reduce heat to low and stir occasionally, until your sides are ready.
Casa de Lindquist recommends serving your chicken and gravy over a bed of rice or mashed potatoes. Enjoy!
Schema Image: