Dark Chocolate Almond Cheesecake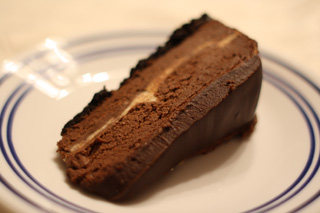 For dear mumsy's 50th birthday, I decided to make her a Chocolate Almond Cheesecake using our Deep Dark Chocolate Cheesecake recipe as a base. It is FABULOUS! The original dark chocolate cheesecake is fantastic, but might be a *teensy* too much on the chocolate side. The almond cheesecake layer does a nice job of splitting up the intense chocolate with a lighter flavor.
NOTE: I am a chocolate lover, so for me to say that anything is "too" chocolatey is to say that it is pretty intense. Of course, the only way to truly know which cheesecake is best is to do a side-by-side comparison!  ;)
 

Ingredients for Crust:
24 chocolate wafer cookies
1 tbsp of sugar
1/4 cup of butter, melted

Directions for Crust:
Preheat the oven to 350F. Butter 9-inch spring form pan. Blend cookies in processor until finely ground; blend in sugar. Transfer to a medium bowl and add melted butter mixing with a spoon until well blended. Press crumbs evenly onto the bottom of the pan (not sides). Bake until just set, about 5 minutes. Cool while preparing the filling. Maintain oven temperature.

Ingredients for Chocolate Filling:
1 9.7oz bar of 70% Cocoa Bittersweet Chocolate, chopped (Lindt for my purposes)
3 8oz packages of cream cheese, room temperature
1 cups sugar
1/4 cup unsweetened cocoa powder
3 large eggs

Ingredients for Almond Filling:
1 8oz package cream cheese, room temperature
1 tsp almond extract
1/4 cup sugar
1 large egg

Directions for Cheesecake Fillings:
Stir chopped chocolate in a saucepan over medium-low heat until melted and smooth. Cool chocolate until lukewarm but still pourable.

Blend cream cheese, sugar, and cocoa powder in a mixing bowl until smooth. Blend in eggs one at a time. Mix in lukewarm chocolate.

In a separate mixing bowl, combing the cream cheese, sugar, almond extract, and large egg. Blend until well mixed.

Pour half of the chocolate filling over crust and smooth top. Add the almond flavored cheesecake. Then top with the rest of the chocolate filling.

Bake until center is just set and appears dry, about one hour. Cool 5 minutes. Run knife around sides of cake to loosen. Chill for at least 2 hours (or overnight if possible). Then prepare the Chocolate Ganache topping.

Ingredients for Ganache Topping:
3/4 cup whipping cream
6 oz 70% Cocoa Bittersweet Chocolate, chopped
1 tbsp sugar

Directions for Topping:
Stir cream, 6oz chocolate, and sugar in heavy medium saucepan over low heat until smooth. Cool slightly. Pour over center of cheesecake, spreading to within 1/2 inch of edge and filling any cracks. Chill until topping is set, about 1 hour.

Now you are ready to dig into your homemade Dark Chocolate Almond Cheesecake. This delectable dessert will please the taste buds and keep everyone begging for the recipe. Enjoy!
Schema Image: