Easy and Delicious Dessert Crepes!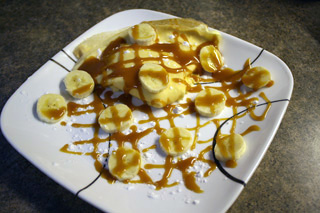 I'm going to preface this by saying this is NOT a recipe for homemade crepes. We bought ours from the grocery store because I was curious how store-bought crepes would taste. However, this recipe does include ways to use crepes and you're welcome to make them from scratch!
Now for the story. Once upon a time... Haha. Around here there is this special week once a year where all the businesses in downtown offer awesome deals on a pre-fix menu. Typically, the restaurants offer their patrons the options of a soup or salad, entree, and dessert. At lunchtime, this will cost you around $10. At dinner, $20 per person. Thus, my husband and I do our best to take advantage of the lunch specials. We traversed across our long city to the downtown area, having previously settled on a local treat called Midi, a German influenced restaurant.
It turned out to be a fantastic choice! We each started out with a bowl of wonderful cream of mushroom soup. Then, we dug into the Jägerschnitzel "Hochwald" with spätzle. Yum! Finally, she came around with the desserts: apple strudel with ice cream and a beautiful crepe filled with creamy vanilla pudding and topped with caramel. The dessert made the meal all the more incredible as I enjoyed every morsel. Thus, it came time to make it at home.
Since my focus was on recreating the dessert as a whole and not on making crepes from scratch, we cheated our way through the crepe-making process and came out with this awesome dessert. Check it out!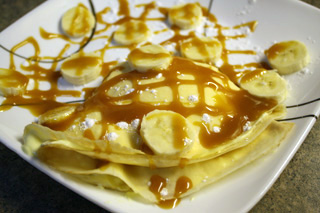 Ingredients (for 1 dessert):
1 large crepe
8 oz reduced-fat cream cheese
2 cups skim milk
1 package vanilla pudding mix
8oz heavy whipping cream
1/8 cup powdered sugar
1 banana, sliced
1/8 cup caramel, warmed
1 tsp powdered sugar (for decoration)
Directions:
In a small bowl, beat the cream cheese until smooth. In another bowl, whisk milk and pudding mix for 2 minutes. Let stand for 5 minutes or until soft-set. Beat in cream cheese on low until smooth.
In another bowl, beat heavy whipping cream until thick but before peaks form. Add 1/8 cup powdered sugar and continue to beat until soft peaks form.
Fold whipped cream into pudding mixture. Tip: Cover and refrigerate for 1 hour for a better consistency.
Lay out the crepe on a flat surface (a plate will do nicely). Then scoop the pudding mixture into the center and spread evenly at about half an inch thick, leaving about an inch around the edges of the crepe. Gently fold your crepe in half, and then in half one more time. Top with sliced bananas. Then, drizzle the heated caramel on the crepe and plate, getting as decorative as you desire. Finally, lightly sprinkle some powdered sugar over the top.
This tasty yet simple dessert will delight your tastebuds. Enjoy!
Schema Image: