Egg Rolls from Scratch; baked, not fried!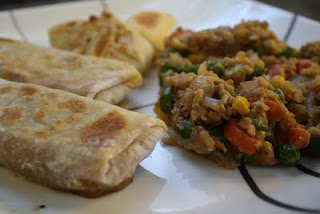 My mom always used to make egg rolls growing up and they were amazing! Nothing in the restaurants compared to mom's egg rolls. However, she would only make them for special occasions because they were so putzy. One day, she taught me how to make them and I've been experimenting with them ever since.
I discovered one day that egg rolls could be baked and made to taste almost as awesome as the fried ones but much healthier. Now, I will share that secret with you...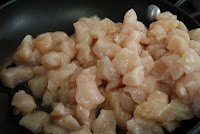 Ingredients
1 lb chicken (or pork), cubed
1 tbsp olive oil
salt and pepper to taste
1 14oz bag of cole slaw (aka shredded cabbage)
1/3 cup hoisin sauce
1/3 cup plum sauce
1/2 cup water
15 egg roll wrappers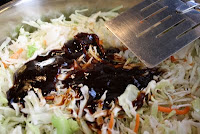 2 eggs
duck sauce
Directions
Wash and cube your chicken into about 1/2" cubes. Then put into a large, deep frying pan with the olive oil. Salt and pepper to taste. Then cook until all chicken is just white. Hint: don't overcook the chicken as it will be cooked in with the cabbage mixture as well is baked in the oven.
Next, pour the cole slaw mixture in with the chicken. Add the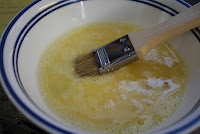 hoisin sauce, plum sauce, and water. Bring the cabbage mixture to a boil and reduce to medium heat. Cook down for about 15 minutes.
Scramble the eggs with 2 tbsp of water in a bowl. Then prepare one egg roll wrapper at a time by brushing each corner with the egg mixture. Put about 2-3 tbsp of the cabbage mixture in the center of the wrapper. Pull one corner toward another corner, stopping just after you have covered the mixture. Then pull the two side corners into the middle. Finally, roll it toward the remaining egg brushed corner until you have an egg roll shape.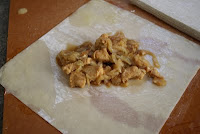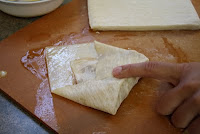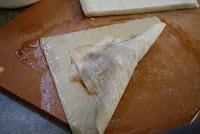 Spray a non-stick baking sheet. Then place each egg roll on it as you finish making them. Lightly spray the tops of each egg roll before placing in a 400 degree F oven for 8 minutes. Flip each egg roll over and bake for 3-5 more minutes. The tops should be a golden brown color.
Serve your egg rolls with duck sauce and some fried rice! It's an amazing combination and far healthier than most egg rolls served in restaurants!
Coming soon: how to make fried rice from scratch!!!
Schema Image: