Focaccia Bread versus Focaccia Bread! Who will win: my homemade version or the bakery's?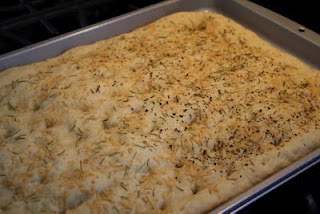 Lately, I have had a craving for these turkey paninis I used to get at a local cafe called "The Blue Note." I used to go there at least once a month either to enjoy a night of salsa dancing or eat their famous paninis. This past weekend, I was hanging out with the former owners of the cafe and finally got the recipe from them. They insisted that the Focaccia bread was key, so for my first quest I must find delicious focaccia bread for making tasty sandwiches.
Naturally, my first stop was the grocery store. I searched the bakery for some decent sandwich focaccia bread and found something that could work, but wasn't overly impressive. Being a very cautious person and wanting to ensure the success of these tasty paninis, I also bought the necessary ingredients to make my own focaccia bread...and tonight a comparison will ensue!
 

 

Ingredients
1 1/2 cups bread flour
1 1/2 cups unbleached all-purpose flour
2 teaspoons salt
1 tablespoon white sugar
1 (.25 ounce) package instant yeast
1 1/3 cups warm water (110 degrees F)
3 tablespoons extra virgin olive oil, divided
2 tablespoons chopped fresh rosemary
2 tablespoons grated Parmesan cheese

Directions
1. In a large stoneware bowl, stir together the flours and salt. Make a well in the center of the flour mixture. Sprinkle the sugar and yeast into that well. Carefully pour the water into the well. Let stand until the yeast begins to act, about 5 minutes. Pour 2 tablespoons of the oil into the well. With a wooden spoon stir the mixture in the center of the bowl. Gradually widen the circle of stirring to take in all of the flour at the sides of the well.
2. Turn out on a floured surface, and knead just until smooth. Keep the dough soft. Pour 1/2 teaspoon of the oil into a clean bowl. Place the dough in the bowl, turning once to oil the top. Cover. Let rise until doubled, 30 to 45 minutes.
3. Punch the dough down. Use 1 teaspoon of the oil to coat a baking sheet, and place the dough on the baking sheet. Gently press the dough out to about 1/2 inch thickness. Pour the remaining 1 1/2 teaspoons oil over the top of the dough. Use the handle end of a wooden spoon to dimple the dough at 1 1/2 inch intervals. Sprinkle with the rosemary and the cheese. Place in a cold oven on the center shelf. Place a flat pan of hot water on the shelf below the bread. Let rise until doubled, 20 to 25 minutes.
4. Turn on the oven to 375 degrees F (190 degrees C). Bake the focaccia for 20 to 25 minutes, or until browned on top. Remove from the pan, and cool on a wire rack. Serve warm.

(I found this recipe at http://allrecipes.com/Recipe/easy-focaccia)

The focaccia bread is somewhat time consuming (which is natural for any bread that has to rise), but relatively easy to make. For extra flavor, I added dried Basil and Thyme in addition to the recommended Rosemary and Parmesan cheeses. The taste test happened and the results are in: the homemade focaccia bread is better for making the paninis. It had a better texture and overall flavor than the bakery / grocery store kind. Plus, you have the benefit of adding whatever flavor you like. I can't wait to use my new bread with the spicy dipping oil!

Look for upcoming blogs about Turkey Paninis and a Spicy Dipping Oil, both of which will require this tasty focaccia bread. :)
Schema Image: