Geeter: french bread, bacon, and crab!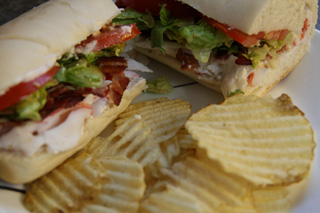 My husband and I frequent a local sandwich shop called Erbert and Gerbert's. They have unusually named sandwiches with delightful stories behind each. Mostly, though, they are just a really good sandwich shop. That being said, sometimes you don't want to pay sandwich shop prices, so I decided I would attempt my hand at one of my favorite sandwiches: The Geeter. In short, it is a chopped seafood sandwich with bacon, mayo, lettuce, and tomato. It's wonderful!
Ingredients: (1 sandwich)
1 loaf french bread
Chopped Seafood / artificial crab
4 slices of Bacon
1 Tomato, sliced
Lettuce
2 tbsp Hellmann's Canola Mayo (or more if desired)
Pepper to taste
Cheddar / goude / swiss cheese (optional)

Directions:
I prefer to bake my bacon at 350F for roughly 20-25 minutes or until brown. However, any style of cooked bacon will do (i.e. pan fried or microwaved).
Meanwhile, mix the mayo and chopped seafood in a small bowl. Add pepper to taste.
Cut the french bread so that it will open like a sub sandwich. Then load it up with chopped seafood, bacon, lettuce, and tomato. If you desire, feel free to add one of the following cheeses: cheddar, smoked gouda, or swiss.

Once your sandwich is fully assembled, serve with a side of chips, a pickle, fruit, or a cup of soup. It's the perfect meal for a summer day!
Schema Image: