"Gourmet" Tuna Sandwich on a Budget!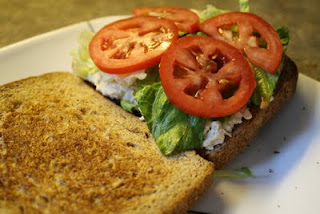 I grew up with tuna from a can and didn't realize until much, much later in life that there is a such thing as "ahi tuna" and other forms of tuna that do not come out of a can. In fact, these fancy kinds of tuna are served at fancy kinds of restaurants! I remember the first time I went out to eat at a classy restaurant and my mother-in-law ordered tuna. When it came out, it was not ground up and mixed with mayo (much to my surprise), but in fact it was a fillet of tuna that looked very pink and fish-like. I was shocked!

However, I cannot afford to make ahi tuna (nor do we have much a selection for such tasty tuna in the Midwest), so I learn to make the canned stuff taste better. :)

Ingredients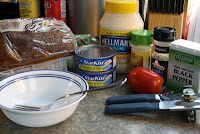 1 can Starkist solid white Albacore tuna
pepper to taste
McCormick's Montreal steak seasoning to taste
garlic powder to taste
2 tbsp of Hellman's Canola mayo
4 slices of your favorite sliced bread, toasted (whole wheat bread for me)*
Romaine lettuce, washed and dried
1 medium tomato, washed and sliced
6 slices of extra sharp cheddar cheese (or 2 deli slices of provolone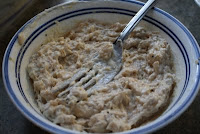 , Havarti, munster, etc)

*Replace the sliced bread for 2 sandwich croissants and enjoy with chips and/or soup!

Directions
Drain the water from the can of tuna. Then place in a small bowl and crush with a fork. Add the pepper, steak seasoning, garlic powder, and mayo. Mix well.
Toast the bread (unless you're using croissants). Then layer two of the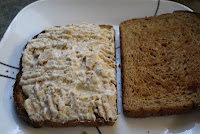 slices of bread with cheese, the tuna mixture, tomato, and lettuce. Top with the remaining slices of bread and enjoy your sandwich with fruit, chips, or soup!

It's a pretty easy sandwich to make, but the spices definitely add something to the sandwich!
Schema Image: