Ham and Cheese Pretzel Bites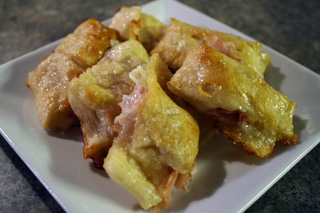 Pinterest is as wonderful as it is addicting. Our CasadeLindquist Pinterest page is up to thousands of pins and after a bit of digging, I found the recipe I'd been meaning to try for a while. Imagine soft pretzels (Yum!) with an added layer of melty cheese and delicious ham (double yum!). I mean, who wouldn't love that at a party?! So, hi-ho, hi-ho, it was off to work I go in CasadeLindquist's latest installment of recipes! Check it out.
Ingredients:
2 tablespoons brown sugar
1 cup warm milk (110-115 degrees F)
2 1/2 cups flour
1/4 oz instant dry yeast (about 2 tsp)
12 slices deli ham (or about 1/2 cup diced ham)
8-12 slices Swiss cheese (or about 1/2 cup shredded cheese)

Directions:
Warm the milk for about 2 minutes, 30 seconds at a time, until it reaches about 115F. Then, stir in the brown sugar until dissolved.

Stir until a soft dough forms. If the dough is still sticky to the touch, add more flour (up to half a cup). Set the dough on a lightly floured surface and knead it, forming a smooth ball.

Brush the inside of a large clean bowl with olive oil. Then place the dough in the bowl and cover with plastic wrap. Allow about 2 hours to rise, or until the dough doubles in size.

Put the dough on a lightly floured surface and divide into four pieces. Dust a rolling pin with flour. Then roll each piece of dough into roughly a 12x4-inch rectangle. To the bottom third of the rectangle, add ham and shredded swiss cheese. Roll the dough starting from the ham and cheese side. Be sure to pinch the ends and middle tightly as they will come undone in when boiling if not properly secured. Let them rest for about 30 minutes.

About 10 minutes before the dough logs are done resting, get a large pot of water boiling. You will need a pot large enough to place the dough logs into. We cut our logs in half and pinched the ends so they would fit better in the pot of water.

Preheat the oven to 350F and get a baking sheet ready to go. Then, when the dough logs are ready and the water is boiling, place one log at a time in the boiling water and let cook for about 20 seconds. Remove the boiled pretzel log from the water using a slotted spatula and/or tongs and place onto the baking sheet. When all the pretzel logs have been boiled, cut them into one inch pieces (about 12 per original log). Then, bake in the oven for 10-15 minutes or until golden brown.

CasadeLindquist Recommendation: use parchment paper or spray the pan to keep the melted cheese from becoming a permanent fixture of your cookie sheets.

When the ham and cheese pretzel bites are cooked, brush on some melted butter and Kosher salt. They make a little bit of a mess but they are tasty! Serve as they are or dip them in beer cheese sauce (recipe coming soon). Enjoy!
Adapted from Pip & Ebby.
Schema Image: