Ham, Cheese, and Everything Egg Bake!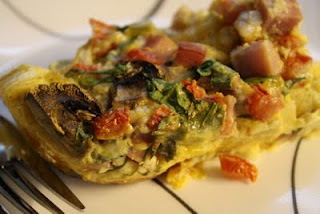 *Note: prepare the egg bake the night before you need it!

Growing up, I had never had egg bake. We made scrambled eggs, over easy eggs, deviled eggs, omelets, and used eggs for baking, but we never made egg bake. My mother-in-law, however, makes it on special occasions and it is probably one of my favorite breakfast foods!
It is relatively easy to put together, but it does require that you refrigerate it overnight and it takes about 1.5-2 hours to bake so it's not a last minute meal by any means!
 

 

 

 

 

Ingredients
3 cups seasoned croutons, small cut
2 cups grated cheddar (go for a sharp cheddar to get lots of flavor)
2 cups ham, diced
1 cup diced onion
1 cup chopped spinach
1 cup diced tomatoes
1 cup mushrooms, sliced and halved
2 cups egg beaters (or 8 medium eggs)
2 1/2 cups milk (skim)
1 can of cream of celery soup (Heart Healthy or 98% fat free)
1/2 can of evaporated milk (about 6 oz)

Directions
Grease a 9" x 13" baking pan (I like to use Pam spray or equivalent). Pour the croutons on the bottom. Then add the cheese layer. Next, add the diced ham. Finish off with a layer of onions, spinach, tomatoes, and mushrooms.
In a large bowl, mix the egg beaters, skim milk, cream of celery soup, and evaporated milk until well blended. Pour the egg mixture evenly throughout the pan. Refrigerate overnight.
In the morning, allow yourself at least 2 hours to bake. Place the pan inside the cold oven and preheat to 300 degrees F. Bake for 1.5 hours. The egg bake is done when you insert a knife near the middle and it comes out clean.

When I made the egg bake, the edges were clearly done but the center was still wet. It took an extra 15 minutes before the center was solid enough to cut through, although it still didn't look fully cooked. After letting it cool for a bit, the egg bake seems to congeal and become more solid. In any case, it tasted incredible! And will make excellent breakfasts for this week.

I was happy to discover that using the low-fat and fat free ingredients did not compromise the taste at all. The vast majority of the flavor seems to come from the meat, cheese, and veggies, so using skim milk, egg beaters, and reduced fat cream of celery is a healthy bonus without losing the taste.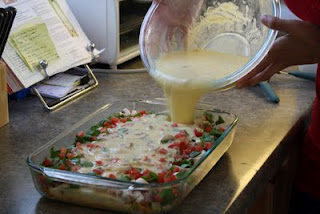 Schema Image: