Homemade Belgian Waffles in a Waffle Iron - Betty Crocker Style!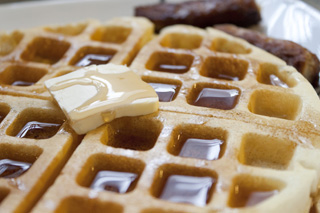 Oh Betty Crocker Cookbook, what would I do without you? So many recipes, so little time! Today's specialty comes from Betty's Waffle Recipe. What makes them Belgian? I guess the waffle-maker, but don't quote me on that.
For starters, you need to have a waffle iron. As a wedding gift, we received the Bella Cucina Rotating Waffle Maker and it is slick! Heat it up, pour about 3/4 cup of batter onto the waffle maker, close, rotate, and wait for the light to change color. Bam! Delicious waffles, cooked evenly everytime.
Once you have your waffle iron purchased, just follow this simple recipe and serve with your favorite syrup or berry sauce. Check it out!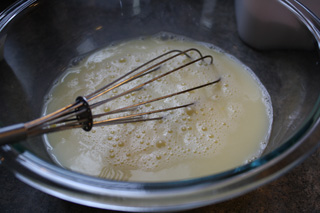 Ingredients:
2 large eggs
2 cups all-purpose flour (or whole wheat if you're into that sort of thing)
1 3/4 cup milk
1/2 cup butter, melted
1 tbsp sugar
4 tsp baking powder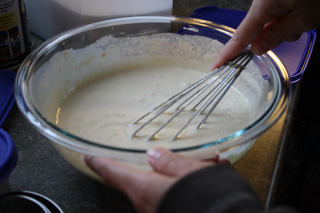 1/4 tsp salt
Directions:
Heat waffle iron. Even though this waffle maker has a non-stick coating, I have found that spraying it is still useful to ensure that the waffle comes out in one piece.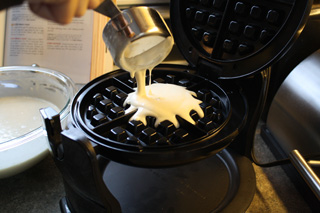 Meanwhile, whisk the eggs in a large bowl until fluffy. Then mix in the flour, milk, butter, sugar, baking powder, and salt until the batter is smooth.
Pour about 3/4 cup of batter in the center of the waffle maker. Close the lid and rotate (if using a rotating waffle iron). Most waffle makers have a light or some kind of indicator, so pay close attention to that. Speaking from personal experience,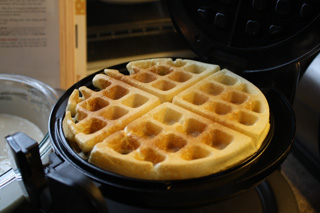 this is not the kind of project you walk away from to do something "quickly" as you will inevitiably burn the waffles and be a sad cupcake.
If you're making several waffles, store the already cooked waffles in either a warming drawer or covered in the oven at 250F. This will keep the waffles warm without drying them out.
CasadeLindquist recommends serving your waffles with a homemade strawberry sauce and sides of bacon and eggs. Because really, what is breakfast without bacon and eggs? Enjoy!
Schema Image: