How to make your own Beef and Cheddar Melts!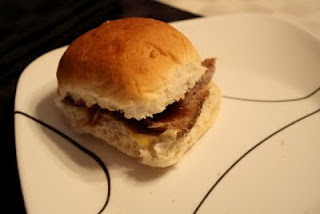 If you've ever been to Arby's fast food restaurant and tried a beef 'n' cheddar melt, you know how tasty, but simple they are. If you've never been, you're not really missing out because I'm going to teach you how to make your own version but even better than the restaurant one.
My husband always had two major gripes about Arby's:
1) they were not particularly well-valued (i.e. expensive for what you actually got)
2) they use deli roast beef equivalent to that of cafeteria food
In order to appease him, I searched for how to make the cheese sauce, which really is the key to the whole sandwich. Turns out, it's pretty easy to make too!
Ingredients for Sandwich
4 onion buns (check your local bakery for these tasty treats; if desperate, use hamburger buns)
8 ounces of pot roast, leftover or freshly made
8 tbsp cheese sauce (see recipe below)
8 tbsp Famous Dave's Rich and Sassy BBQ Sauce
Ingredients for Cheese Sauce
1/3 cup grated extra sharp cheddar
1/2 cup easy cheese
2 tbsp milk
Directions for Cheese Sauce
Combine all three ingredients in a sauce pan and cook over low heat. Stir until cheese sauce is fully melted and smooth.
Directions for Sandwich Assembly
If using leftover pot roast, be sure to reheat it! These sandwiches are far tastier when warm.
Slice the onion buns in half. Put 1 tbsp cheese sauce on top and bottom portions of each bun. Then place the meat on the bottom portion of each bun. Add the 1-2 tbsp of BBQ sauce to each sandwich. Close and enjoy!
Like I said, they are a pretty simple recipe but they taste incredible! They go well with a side of watermelon and chips!
Schema Image: