Meals in 15 Minutes or Less - Lunch 2: Italian Pasta Salad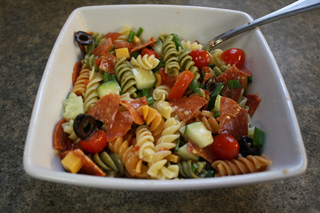 My husband doesn't much care for pasta salad, so I usually make it for myself during my summer break. I have always enjoyed cold pasta salad, especially of the Italian variety! There is something about fresh veggies cut up with noodles and pepperoni! Plus that Zesty Italian dressing that pulls the dish together! It's a refreshing summer dish. So for our second day of Meals in 15 Minute or Less, we are going to make a personalized pasta salad with Italian dressing from fridge to bowl in 15 minutes or less.
Ingredients:
2 oz tricolor spiral pasta
1/8 cup cucumber, diced
1/8 cup small tomato, diced
1/8 cup green onions, chopped
2 tbsp black olives, sliced
1 oz extra sharp cheddar cheese, cubed
8 pepperoni slices, quartered
2 tbsp zesty Italian salad dressing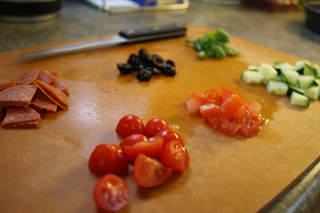 Directions:
Fill 2-qt sauce pan one-quarter full of water and bring to a boil.
Dice the cucumber, tomato, green onions, and cheddar cheese. Quarter the pepperoni slices. Toss veggies, cheese, pepperoni, and Zesty Italian dressing in a bowl.
Drain the pasta. Run cold water over the pasta to cool the noodles (or skip the cold water if you have time to refrigerate your meal before eating) and drain again.
Mix in the pasta with the tossed veggies, and your meal is ready to eat! If there are vegetables on this list you're rather avoid, play around with it! Consider adding red pepper as an alternative to the tomato or green pepper as an alternative to either the cucumber or green onion.
This colorful dish will please your palate and keep you coming back for more!
Note: if you have the time, allow pasta salad to refrigerate for one hour or more to marinate.  It will bring out more flavor than if eaten right away.  However, if you're short on time, eatint it right away is still tasty!
Schema Image: