Mediterranean Eggs - taking the classics and adding some pizzazz!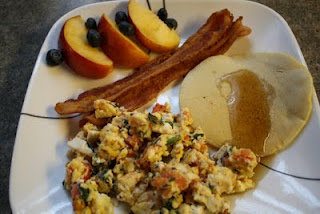 For many years, I disliked breakfast food. I remember traveling with my family and stopping at Perkins. Everybody else ordered omelets, pancakes, toast, cereal, bacon, etc... except me. I always ordered some kind of sandwich, even if it was 9:00 in the morning! The waitresses usually gave me a funny look, prompting me to inquire "is it too early for lunch food?" to which they would smile and reply "No, of course not."
It took years for me to really appreciate breakfast food. Now, I find it hard to believe I ever hated it! There are so many tasty breakfast treats! Pancakes, bacon, eggs in all their various forms, bagels with cream cheese, caramel rolls, waffles smothered in syrup, French toast... the list goes on and on.
As I grew older, I learned how to make even the most basic breakfast meals just a little more exciting. Remember how I said I've been making scrambled eggs since I was about 5 years old? Well, my amazing eggs just got better!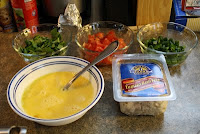 The following directions would feed about four people.
Ingredients
1 tbsp margarine or butter
2-3 cloves garlic, minced
1 cup green onion, chopped
1 cup spinach, chopped
1 medium tomato, diced
5 eggs, scrambled
1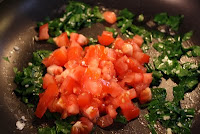 /4 cup parmesan asiago cheese
1 cup tomato basil feta
Directions
Saute the garlic in the margarine on medium heat for about one minute. Add the green onion and cook for about one minute. Then add the spinach and tomatoes; cook for two minutes.
Pour the scrambled eggs over the mixture. For fluffy, scrambled eggs it is important to push the eggs with your spatula pretty constantly while they cook; otherwise they are more likely to get crispy and burn.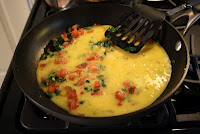 When the eggs are mostly cooked, but still a bit shiny, add the cheeses and continue scrambling the eggs with the spatula. When the cheeses are just melted (about one-two minutes), remove the pan from the heat and serve!
I love my eggs with two crispy strips of bacon, pancakes or waffles, and a side of fruit. I hope you enjoy your breakfast!!!
Note: if you don't have a bacon press and struggle to keep your bacon flat, try using a pot top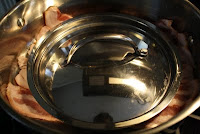 from a pot slightly smaller pot than the pan you're cooking in. Make sure the pan you're cooking is stainless steel so as to not scratch the surface.
I've used this method a few times now and even though my pot top is not perfectly flat (the inside is arched), it still holds the bacon with the edges of the pot top, keeping it from shrinking up. When your bacon is ready to flip, use a hot pad to remove the pot top and flip the bacon, the replace the pot top. It works out great!
Schema Image: