Mini Food, Big Taste - Burgers and Fries! (Post 1 of 4)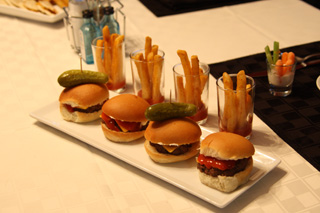 Mini food is apparently all the rage, so I decided to try my hand at arranging mini appetizers for the pleasure of my guests. My first stop was to Kohls where I picked up a set of white espresso cups with matching saucers.  They are absolutely adorable!  Then I popped over to Bed, Bath, and Beyond where I found a variety of mini dishes just ripe for the buying.  They had everything from mini wine glasses and margarita glasses to mini spoons and forks!  It was all so tiny that I was tempted to buy one of each; luckily my husband was there to keep me in check. We grabbed a set of short and tall shot glasses that we needed for arranging our mini appetizers.  Next, it was to the grocery store to locate the appropriate ingredients.  I started by getting the ingredients to make mini burgers with a side of fries and ketchup.
Ingredients:
1 package seasoned fries from the frozen foods section (or make your own from scratch using cut potatoes, olive oil, and salt)
1 lb ground beef
1 pack dinner rolls (white or wheat)
1 block extra sharp cheddar cheese
1 jar small dill pickles
Montreal steak seasoning (to taste)
Garlic powder (to taste)
Ketchup
Mayonnaise (Hint: if you're watching your fat intake, consider trying the canola oil mayo; it's keeps the consistancy of good mayo, is still very tasty, and has about 1/3 the fat to regular mayo!)

Directions:
Pre-heat the oven to 425F. Place fries on a cookie sheet (preferably with sides so they do not fall off). Fries take approximately 17-20 minutes to bake.
Meanwhile, mix the ground beef with roughly 1 tsp garlic powder and 1 tsp Montreal steak seasoning (or more depending on your preference) in a medium bowl. Divide into eighths and form round patties. I use my Foreman Grill, but any grill or frying pan should suffice. Cook for 3-5 minutes or until outsides are browned and the juices run clear.
While waiting for the burgers to cook, slice the dinner rolls and place on a serving tray. Place the cooked burger patties on sliced dinner rolls and assemble your favorite ingredients. I topped ours with cheese, ketchup, and mayo to keep it simple, but you could easily add any number of toppings. Just remember: this is a mini burger!
While the fries finish cooking, take out the tall shot glasses and add about 1 tbsp of ketchup to the bottom. Then place 5-6 fries in each shot glass.
Serve the burgers and fries together and watch your guests enjoy the small, but tasty portions of an old classic! It's a great way to entertain your summer guests!
Schema Image: