Mini Food, Big Taste - Veggies and Dip (Post 3 of 4)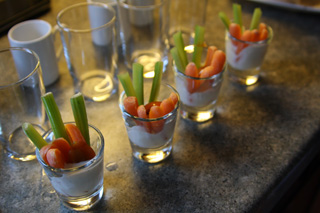 With every party, there should be options for healthy snacks. That's where this mini-treat comes in handy and you won't believe how easy it is to do!  Just gather up your favorite vegetables, some dip, and short shot glasses.
Ingredients:
carrots
celery
cherry tomatoes
Ranch dressing

Directions:
Cut the carrots and celery into 1/4 inch strips. Cut the cherry tomatoes into halves.
Fill the 1 oz. shot glasses with a little Ranch dressing at the bottom. Then arrange your vegetables in the shot glass (as pictured).
It only takes five minutes of your time, but it looks and tastes incredible!
Schema Image: