Mostly Homemade Cinnamon Rolls (and winner of a 12-person survey)!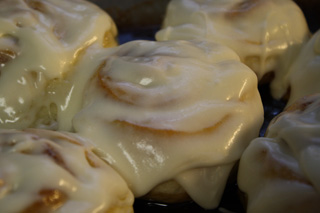 I have been to a couple of restaurants now that make "Cinnamon Roll French Toast" and have been curious about how to create it myself.  I decided it was time to try it out.  However, it was decided that we must first learn to make homemade cinnamon rolls.  I tested three recipes varying from cinnamon rolls in the frozen food section to totally homemade.  Here is your mostly homemade cinnamon roll recipe!
Ingredients for Cinnamon Rolls (makes 8):
8 white dinner rolls, dough (prefer Rhodes brand, frozen food section)
2 tbsp margarine, melted
3/4 cup brown sugar
1/4 cup white sugar
3 tsp cinnamon

Ingredients for Cream Cheese Frosting:
4 oz cream cheese, softened
4 tbsp margarine, softened
1 teaspoon vanilla
1.5 cups confectioner's sugar

Directions for Cinnamon Rolls:
Allow dinner rolls to thaw out and rise (see directions on package). Note: Regular method takes 3 to 5 hours; Quick method takes about 1.5 hours.

Lightly grease or spray a 9" by 13" pan and set aside.

Mix the brown sugar, white sugar, and cinnamon together in a small bowl. On either the bare counter or a pastry mat, roll out the dough using either your hands or a rolling pin until about ½ inch thick. Brush dough with melted butter. Sprinkle the dough evenly with the filling, leaving a half inch border. Press the filling firmly into the dough.

Loosen the dough from the counter using a metal spatula. Starting at a long side, roll the dough to form a tight log. Pinch the seam to seal. Slice the dough into 8 even pieces. Place the slices in the greased pan; put a damp towel over them and allow to rise until doubled in size, about 30 minutes.

Brush the rolls with the remaining melted butter. Bake for about 20-25 minutes, or until the edges are golden brown.

While the cinnamon rolls are baking, start making the frosting. Combine the cream cheese and butter a mixer until smooth. Then mix in the vanilla. Finnaly, add the powdered sugar ¼ cup at a time and mix on low.

Frost the cinnamon rolls while still warm and serve immediately! They taste best fresh, but if you have leftovers check out the Cinnamon Roll French Toast recipe!

 
Schema Image: