The Pancake Breakfast Shot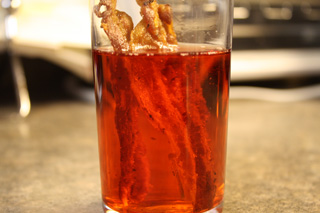 This shot is brought to you by our favorite hole in the wall bar called The Anchor. You may have even heard of this fine establishment from the show Diners, Drive-ins, and Dives. In any event, aside from the greatest burgers and fresh cut fries I've ever had at amazingly low prices, they also have this rather unusual shot called the Pancake Breakfast shot. It tastes like warm pancakes with syrup and a hint of strawberry and comes with bacon. I mean, what's not to love about BACON?!
Given Casa de Lindquist's love of all things bacon, we decided to figure out how to make this tasty shot and share our findings with you! Enjoy!
Ingredients:
0.5 oz strawberry schnapps
0.5 oz butterscotch schnapps
1 slice of bacon, cooked

Directions:
Fry up the bacon. Set aside on a paper towel.

Combine the strawberry and butterscotch schnapps in a shot glass. If desired, heat in the microwave for 5-10 seconds or until warm.

Now let the bacon steep in the shot for about a minute (or longer) to allow the drink to absorb the bacon flavor.

Finally, take the shot and chase it with the crunchy bacon. DE-licious! :)

We like to enjoy this shot right before a tasty meal of burgers and french fries. And remember: always drink responsibly!
Schema Image: