Pickle Rollups for the Win!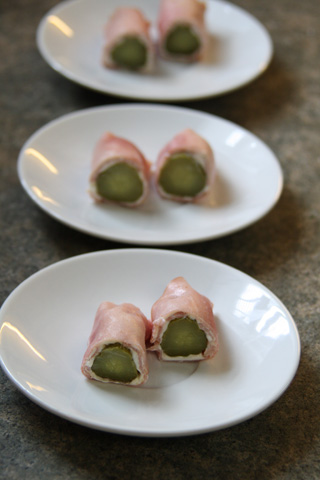 If you're looking for a simple snack or a great party appetizer, look no further than Pickle Rollups.  With only three ingredients and minimum preparation, these appetizers will please everyone without breaking the bank! 
My grandmother used to make these for every family gathering.  As I got older, she showed me how to make them and eventually put me in charge of them!  While they are traditionally made with corned beef, I do not usually have that particular meat around, so I started making mine with ham and they are just as tasty!  Thin sliced hard salami or a good smoked turkey works too!
And now, just as my grandmother taught me, I will pass this recipe on to you!
Ingredients:
Deli Sliced Honey Ham
Kosher Dill Pickles (Gedney Mini Munchers or Spears cut in half)
1/3 less fat cream cheese

Directions:
Allow cream cheese to soften. Then, lay out the ham on a cutting board.

Using a butter knife, carefully spread the cream cheese on the ham. Tip: spread a little of the cream cheese on the tinfoil wrapper it comes in to help soften it; then place that cream cheese in the middle of the ham and work it carefully to the sides.

Finally, add the pickle to the edge of the ham and roll it. Cut the rollups into bite-sized pieces and refrigerate.

Serve on a tray with other appetizers for any occassion! Enjoy!
Schema Image: