Pulled Chicken Hoagie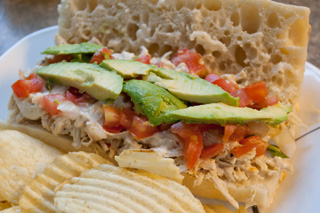 Around here, we love sandwiches. So we are always looking for new ways to combine our favorite meats, cheeses, condiments, and vegetables. After going to one of our favorite restaurants (Clyde Iron in West Duluth) and seeing how they combined pulled chicken with garlic aioli sauce, avocado, and pico de gallo, we knew we had another sandwich project to try. It was a truly incredible combination of flavors!
First stop for making this delectable sandwich at home, the grocery store for some tasty French bread. We opted for the Take-n-Bake bread as it is about as close to homemade as you can get for considerably less effort. Then, it was just a matter of mixing up a fresh batch of garlic aioli sauce, throwing together some pico de gallo, and cooking up tasty pulled chicken. Check it out!
Ingredients:
3 chicken breasts
16-32 oz chicken broth, low sodium
3 cloves garlic, minced
1 tbsp lemon juice
1 cup mayonnaise
Salt and pepper to taste
1/4 cup Pico de gallo (Homemade: 3 large tomatoes, 1 small sweet onion, 1 tbsp lime juice, dash of garlic powder, and cilantro)
1 avocado, sliced
French bread (Take-N-Bake)

Directions:
Put the chicken breasts in a large stock pot. Then add enough chicken broth to cover the chicken completely. If you do not have enough broth to cover the breasts, you can use water for the remaining liquid. Season the broth to taste with cumin powder, chili powder, garlic powder, and salt & pepper. 

Set the burner to high until the broth boils. Then, reduce heat to medium-high and continue boiling for 20-30 minutes, or until chicken is tender and reaches an internal temperature of 65F.

While the chicken is boiling, you can make your own pico de gallo (or buy some already made from your local grocer). Pico de gallo is basically diced tomatoes, diced onions, lime juice, garlic powder, and chopped cilantro gently combined and left to sit for a bit so the flavors can mingle. If you want a little spice, add some chopped jalapenos!

On to the garlic aioli! If you love garlic like we do, then you will definitely want 3 cloves of minced garlic. However, for the less enthusiastic garlic lovers out there, 1 clove is fine; it will have a much milder taste. Take that minced garlic and add it to 1 cup of mayo. Then mix in the tablespoon of lemon juice, and salt & pepper to taste. Fresh ground pepper will provide the best taste for this recipe, so if you have it, use it!

Ok, garlic aioli: check! Pico de gallo: check! Now preheat the oven to 350F (or as the directions indicate) and get that bread ready for eating.

With the chicken boiled, it's time to shred! Take one of the breasts of chicken and place it in a large baking pan. Then, using two forks, start shredding. I usually use one fork to hold the chicken in place and the other fork to pull the chicken with the grain to shred it.

After you've shredded all your chicken and the bread is baked, start the assembly. Slice the bread to whichever size is most appropriate for your appetite. Then layer on the pulled chicken, garlic aioli, pico de gallo, and avocado slices.

Casa De Lindquist Recommendation: Serve this tasty sandwich with a side of kettle chips. This sandwich can't be beat and you'll have leftovers to boot. Enjoy!
Schema Image: