Raspberry Poppy Seed Salad Dressing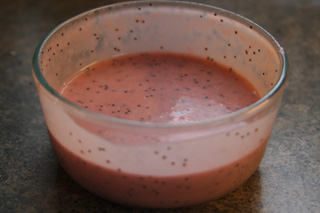 While you can buy a decent raspberry poppy seed salad dressing at the store, I have found a delightful recipe that is easy to make and well worth the extra five minutes!  The flavors are bold and pair nicely with tart spinach and sweet strawberries.  You will not be disappointed!
Ingredients:
1/8 cup grated onion
1/4 cup white wine vinegar
1/4 cup sugar
1 teaspoon dry mustard
1/2 teaspoon salt
1/4 cup olive oil
1/4 cup vegetable oil
6-8 raspberries, washed
1 teaspoon poppy seeds

Directions:
Grate the onion using a cheese grater. Then combine onion, white wine vinegar, sugar, mustard, salt, oils, and fresh raspberries in the blender and mix until combined. Strain through a wire strainer and pour into a storage container.
Whisk in poppy seeds and refrigerate until needed.

This beautifully colored salad dressing goes great on spinach and strawberry salads with feta cheese crumbles, a summer favorite. Enjoy!
Schema Image: