Scrambled Eggs with Cheese and Ham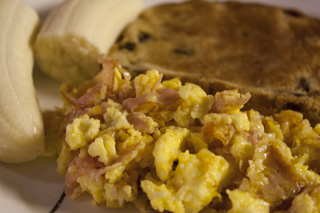 We do love our breakfast foods around here. As breakfast is one of the most important meals of the day for getting the brain and body ready to work, we always make sure to eat something before heading out the door. Unfortunately, it's also at a time of day where our bodies are not fully awake and fighting the concept of eating.
That's where variety comes in to help! We have an arsenal of tasty breakfasts that we can choose from so that even at our worst mornings, we are able to *choke* down something before going to work.
This week: scrambled eggs with cheese and ham! Check it out.
Ingredients (per person):
2 slices deli ham, chopped
1 tsp butter or other oil
1 egg
1/4 cup shredded parmesan / asiago mix (or cheese of your choosing - We recommend using a sharp cheese for more flavor without as much cheese.)

Directions:
Melt the butter (or heat the oil) with the sliced ham in a small non-stick pan on medium heat.

Meanwhile, crack the egg into a small and scramble it with a fork or whisk. When the butter is completely melted and the ham is just heated through, pour the egg into the pan.

Move the spatula along the bottom of the pan to keep the egg from burning and to "scramble" it.

While your egg is cooking, start your toast. This week we went with raisin bread!

When the egg is mostly cooked but still has a sheen to it, pour the cheese on the egg mixture and continue to gently scramble the egg. When the cheese is just melted, you are ready to serve.

Lindquist's complete breakfast recommendation: serve your eggs with a side of whole grain toast, banana, and a glass of milk. Getting 4 of 5 food groups will keep you going strong until lunch! Enjoy. :)
Schema Image: