Smoked Turkey & Gouda with Apple Slice Sandwiches!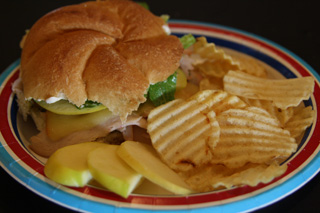 I do not know for how long this has been a trend, but lately apples have been showing up in my sandwiches... and they're delicious!
I wanted to try my hand at making such a sandwich so I gathered up ingredients I had around the home and began constructing my first sandwich with apples on it.
Ingredients:
3-4 slices honey smoked turkey breast
3 slices smoked gouda
3 slices apple (preferrably granny smith)
1 Kaiser roll (or sandwich bread of your choice)
Lettuce
Mayo

Directions:
As this is a sandwich, it's pretty simple to piece this baby together. Start by slicing the Kaiser roll in half. Spread mayo on each half. Then place the turkey and gouda slices on one half and broil that in the oven for 3-5 minutes or until cheese is melted.
Next, add the apple slices to the melted cheese. Top with lettuce and the other half of the bun and you're set!
Serve it with a side of chips and a lemonade for those hot summer days. Enjoy your apple flavored sandwich!
Schema Image: