Spicy Dipping Oil for your Focaccia bread needs!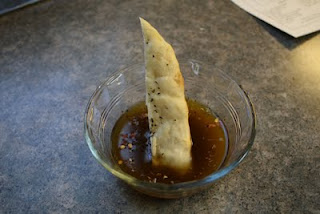 If you're a fan of dipping focaccia bread in olive oil and/or balsamic vinegar, then have I got a treat for you! My husband and I were out in California for our wedding and whilst hanging out in Napa Valley (gorgeous!) we stopped by a restaurant called Celadon. Before we had our meal, they served their own homemade focaccia bread and Spicy Dipping Oil. It was so incredibly flavorful, that I asked the server what was in it. He promptly brought me a recipe printed out on card stock. Yay for awesomeness!

Check them out at http://www.celadonnapa.com/! Now, the time has come for me to share this recipe with you.
 

Ingredients
2 1/2 tsp red pepper flakes
4 tsp Italian seasoning
2 tsp dried basil
2 1/2 tsp salt
1 1/2 tsp herbes de Provence (I didn't use this and it turned out just fine!)
1 tsp fresh garlic, minced
3/4 cup balsamic vinegar
2 cups olive oil

Directions
Combine the first six ingredients in a large bowl. Stir to mix. Add balsamic vinegar and mix well. Let sit five minutes. Slowly whisk in olive oil.

Enjoy your spicy dipping oil with fresh focaccia bread!
Schema Image: