Taco Dip - as a meal or appetizer, it's delicious!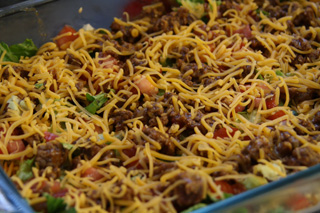 Another taco-inspired meal for you all to enjoy: taco dip! Usually I use this as an appetizer, but occasionally we do make it into more of a salad-type meal and both ways are truly fantastic. In addition to its versatility, taco dip requires few ingredients and minimal prep time!  Let's get to it...
Ingredients:
1 lb ground beef
1 package taco seasoning (recommended: Ortega)
3/4 cup water
8 oz reduced fat cream cheese
1/2 cup taco sauce, medium (or as spicy as you like)
1 medium tomato
2 oz shredded cheddar cheese
Lettuce

Directions:
Brown the ground beef in a frying pan. Drain the grease. Add taco seasoning packet and 3/4 cup water. Cook until thickened.
Meanwhile, use a mixer to blend the cream cheese and taco sauce. Spread mixture on the bottom of a 9" x 13" baking pan with a rubber spatula.
Top mixture with shredded lettuce, diced tomato, shredded cheese, and half of the seasoned taco meat. (Save the other half pound for tacos or to make a second batch of dip!)
If you desire to serve this as a meal, it serves 4 people and can be placed in a bowl with Fritos chips. If you choose to serve it as an appetizer dip, it will serve 12 people and goes well with taco chips.
No matter how you choose to share this dip, you and your guests will not be disappointed!

 

 
Schema Image: