Tasty Cinnamon Rolls from Scratch!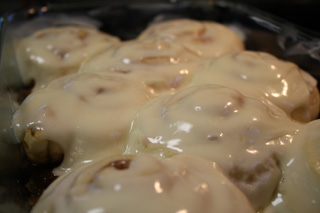 Upon deciding that we were going to make Cinnamon Roll French Toast, I needed to find a recipe for tasty cinnamon rolls. I researched for while to find the perfect recipe. Between searching online, through Facebook friends, and my own common sense, I came across a lovely homemade recipe that anyone can replicate! Just give it a try!
 

 

 

 

 

 

 

Ingredients for Cinnamon Roll Dough (makes about 15 rolls):
2 eggs, beaten
1 cup milk (heated, 1 minute in microwave)
1/4 cup warm water
1 tsp pure vanilla extract
1/2 cup margarine, softened
1/2 tsp salt
1/2 cup sugar
5-6 cups flour
3 tsp instant active dry yeast (about 1.5 small packets)
1 tbsp vegetable shortening (or cooking spray)

Cinnamon Filling:
4 tbsp margarine, melted
3/4 cup firmly-packed brown sugar
¼ cup white sugar
4 to 5 tablespoons ground cinnamon

Cream Cheese Frosting:
4 oz cream cheese, softened
4 tbsp margarine, softened
1 tsp vanilla
1.5 cups powdered sugar

Directions for Cinnamon Roll Dough:
In a stand mixer, beat the egg on low. Mix the warm water and yeast (as per the directions on your yeast package). Then add the milk, yeast water, vanilla, margarine, salt, and sugar until combined. Slowly add the flour until dough pulls away from the sides and starts to form a ball. Use a dough hook if you have one. If you do not, use the paddle attachment until dough thickens; then roll the sticky dough in flour by hand until it doesn't stick to your hands but is still somewhat tacky.

Knead the dough until elastic, approximately 5 minutes. Grease a large bowl with vegetable shortening (or cooking spray). Turn the dough in the bowl until lightly greased. Then cover the bowl with a damp towel and let rise until double in size, about 1 hour. After dough has risen, roll and stretch the dough into approximately a 15" x 24" rectangle.

Brush the 4 tbsp melted butter (listed below in the Cinnamon Filling) over the top of the dough with a rubber spatula or a pastry brush. Sprinkle Cinnamon Filling over the butter on the prepared dough. Starting with long edge, roll up dough; pinch seams to seal. With a knife, lightly mark roll into 1 1/2-inch section. Then use a serrated knife to carefully saw through the dough. Place in a greased 9" x 13" baking pan. Cover and let rise in a warm place for approximately 45 to 60 minutes or until doubled in size.

Preheat oven to 350 degrees F. Bake cinnamon rolls for approximately 20 to 25 minutes, or until they are a light golden brown.

Meanwhile, blend cream cheese and margarine with a stand mixer or hand mixer until smooth. Add vanilla and combine. Finally, add powdered sugar ¼ cup at a time. Apply frosting to each cinnamon roll while still warm.

Note: you can freeze the cinnamon roll dough for up to 1 month or refrigerate for 1-2 days.  If frozen, allow 10 hours to thaw before baking.

Enjoy your delicious, homemade cinnamon rolls!  And if you have any leftovers, check out the Cinnamon Roll French Toast Recipe which is perfect for day old cinnamon rolls!
Schema Image: