Tasty Ideas with Fresh Mozzarella - Sandwich Style!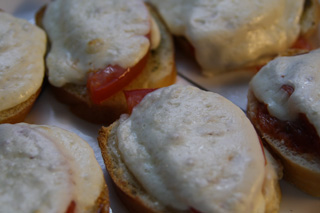 Every once in a while the grocery store has logs of fresh mozzarella on sale that beg to be bought and consumed. When last this happened, we purchased two logs and came up with a variety of tasty ways to incorporate them into our meals. This particular time was an experiment of condiments / sauces we had around the house, baguette bread, tomatoes, and fresh mozzarella. Check out these ideas!
Ingredients:
1 package (log or ball) fresh mozzarella, water packed
1 large tomato, sliced
1 loaf baguette bread
Condiments (olive oil, mayo, pesto, pesto mayo, ranch, etc.)
Sauces (pizza sauce, Alfredo, etc.)

Directions:
Select your condiments / sauces. Then, slice the baguette into half inch thick pieces and place on a cookie sheet. Spoon the condiment / sauce of your choice onto the bread. Then add the sliced tomato and a slice of fresh mozzarella.
Broil in the oven on High for 5-8 minutes, or until the cheese bubbles and starts to brown.
Plate the bread and serve as an appetizer or as a meal with a side of fruit. These little snacks are easy to make and taste incredible! Enjoy!

Recommendations: we tried six different kinds of sandwich toppings and determined that the pesto mayo was probably our favorite, although it was a close call between the Alfredo and Ranch ones! The one with just olive oil had the least flavor and was probably our least favorite, though still tasty. Good luck and let me know how it goes for you!
Schema Image: