Thai Chicken Skewers with Peanut Sauce - Perfect for a Luau!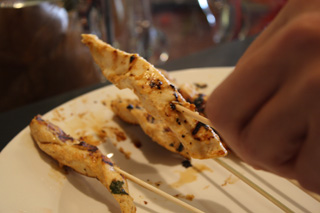 I was recently asked to be the cook for a Luau. As I researched what kinds of foods would typically be found at such an event, I came across a variety of fun foods going beyond the pineapple that initially popped into my head. When I found a recipe for Thai Chicken Skewers, I knew that had to go on the list. 
The first major issue I encountered: I would be cooking in an office with a kitchen, but no grill pan or other form of grill.  What to do?  Thankfully, I own a Foreman grill and was able to cook up the chicken on that. 
Ingredients for Thai Chicken (serves 14-15 as an appetizer):
2.25 pounds boneless skinless chicken breasts, cut into one inch strips
13.5 oz coconut milk
2 Tbsp fresh cilantro, chopped
1 Tbsp dark brown sugar
1.5 tsp red curry paste
3 tbsp lime juice (fresh if possible)
2 cloves garlic, minced
.75 tsp table salt
1 set bamboo (or metal) skewers

Directions for Thai Chicken:
Wash and cut the chicken into one inch strips. Put in Zip-lock bag.
In a medium bowl, whisk together coconut milk, cilantro, brown sugar, red curry paste, lime juice, garlic, and salt until blended.
Pour the coconut milk mixture on the chicken in the resealable bag. Seal and turn to coat. Refrigerate until ready to use; best if allowed to marinate for 1-3 hours.
If you have a standard grill, put the skewers in the uncooked chicken and cook on the grill for about 5-6 minutes or until meat reaches an internal temperature of 165F. If you will be using a Foreman grill, cook the chicken first for roughly 8-10 minutes; then put the skewers through the chicken using tongs to hold the chicken in place.


Ingredients for Peanut Sauce:
1 cup peanut butter, smooth (I used Skippy)
2/3 cup coconut milk
3 tbsp lime juice, fresh
3 tbsp soy sauce
1 tbsp sweetened chili sauce
3 cloves garlic, minced

Directions for the Peanut Sauce:
Combine all ingredients in a medium bowl and whisk together until blended and thick.

Now you're all set to arrange the Thai chicken skewers on a serving platter with a bowl of peanut sauce for dipping. I couldn't make the chicken skewers fast enough, so be sure you have plenty! These go great with fruit skewers too. Enjoy!
Schema Image: