Turkey Bacon Avocado Melt - A wonderful take on Grilled Cheese!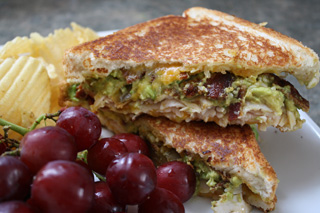 I love grilled cheese sandwiches!  They are easy to make and you can add pretty much any ingredient you like.
On this particular occassion, I has some leftover Texas toast sitting around that needed to be eaten.  I decided to buy some avocados and whip up a particularly tasty grilled cheese sandwich!  Check it out!
Ingredients:
2 slices bacon, cooked and crumbled
2 slices Texas toast bread
1 tablespoon butter or margarine
1 oz cheddar cheese, shredded
1/2 oz Parmesan Asiago blend
3 slices honey smoked turkey
2 tablespoons guacamole (Mix together 1 avocado, 1 tbsp sour cream, 1 tbsp salsa, 1 tsp lime juice, and 1/2 tsp garlic powder)

Directions:
Cook the bacon until crispy and set aside on paper towels to drain.

Butter one side of each slice of bread. Then, put one slice butter side down on a griddle and add half of the cheese. Then top off the cheesy bread with the remaining ingredients in the following order: turkey, guacamole, bacon crumbles, the remaining cheese, and the remaining slice of bread with the buttered side up.

Grill over medium heat until golden brown and the cheese has melted, about 2-3 minutes per side.

This sandwich is incredibly filling and delicious! I can't wait to make another. Enjoy!
Schema Image: