Warm, Fresh Baked Strawberry Pie!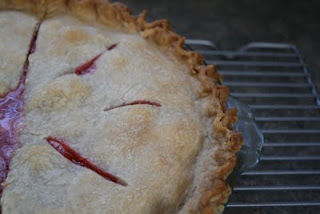 Usually when I bake a "strawberry" anything pie, it's a strawberry rhubarb. However, my friend was visiting from out of town and special requested a warm, strawberry pie with top and bottom crusts. I loosely based my recipe on a blueberry pie recipe that my grandma taught me. It worked out fabulously! One caution: warm strawberry pie does not have time to congeal properly, so it will leak delicious strawberry goo in the pan. No worries! Afterall it still tastes amazing!


How to make your very own strawberry pie from scratch:
2-Pie Crust Ingredients
2 cups flour (I've used both white and whole wheat flour in the past and both turn out great!)
1 tsp salt
3/4 cup shortening (I recommend Crisco sticks; they're easy to measure)
5-6 tbsp Sprite (or other lemon-lime soda)

2-Pie Crust Directions
Preheat oven to 425 degrees F. Put the first three ingredients into a large bowl. Use a pie cutter to cut the flour mixture until it forms small balls of dough (it will not be completely mixed at this point). Then add the Sprite. Cut it about 5 more times. Then mix the dough with your hands until you can form a ball.
Split the ball of dough into 3/5 and 2/5. Using the larger portion of dough, roll it out to 12-13 inches on a pastry mat with a rolling pin (or, if you don't have a rolling pin or pastry mat, roll it out between two pieces of wax paper).
Put the rolled out dough into a 9" pie pan. Then roll out the smaller portion of dough to 9-10".

Strawberry Pie Filling
4 cups strawberries (preferably fresh and cut)
1 1/4 cup sugar
1/3 cup and 2 tbsp flour
1 tsp salt
2 tbsp of butter or margarine

Strawberry Pie Filling
Cut up medium-sized strawberries into about eighths. Mix in sugar and flour until well-combined. Pour strawberry filling into the pie. Dot pie with butter. Place 9" rolled out pie dough on top. Cut 4 to 8 small slices in the top to let steam escape while baking.

Bake pie at 425 degrees F for 15 minutes. Then reduce to 375 degrees F for 30-40 minutes or until the crust is golden brown.

If you are impatient (like I was), wait until the pie cools for about 20 minutes before cutting. It will make a bit of a gooey mess, but it will taste amazing, especially with a dollop of ice cream.
If you are not impatient (or prefer to let the pie actually congeal), wait until the pie pan cools completely. Then place it in the fridge for about 3-5 hours. This will allow the pie filling more time to congeal, preventing the "spilly" mess.

 
Schema Image: