Zucchini Bread (or Muffins, if you're into that kind of thing)!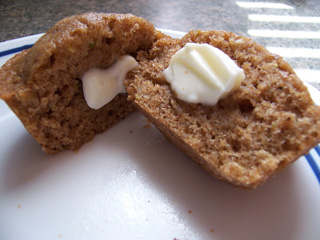 Growing up, mom used to grow her own zucchini in the garden and make this amazing zucchini bread with it. The bread could be smelled throughout the house and brought everyone to the kitchen for mom's latest creation.
One day she offered me some of the zucchini from her garden. I wasn't sure what to do with it, so she showed me how to use her food processor (great invention if you don't already own one!), and gave me the recipe to her famous zucchini bread. I decided it was time to try it out for myself. The funny thing about moms, though, sometimes they forget to tell you that they have modified the recipe. The first time I made it, I followed the directions perfectly. It was delicious, but seemed way "spicier" (i.e. too cinnamony + nutmegy) than when mom makes it. My husband and I enjoyed our bread, but kept thinking, "Mom's is better." 
It was then I discovered that mom usually changes up the spicing. I finally got her to reveal her spicing secret, which I will now share with you!
Ingredients:
3 eggs
1 cup oil
2 cups sugar
2 cups peeled, grated zucchini (use a food processor if you  have one; they work wonders!)
3 tsp. vanilla
3 cups flour
1 tsp. salt
1 tsp. baking soda
3 tsp. cinnamon
1/2 tsp nutmeg
1 tsp cloves
1/4 tsp. baking powder

Directions:
Preheat the oven to 350F. Beat eggs until foamy & light.

Then mix in the oil, sugar, zucchini, & vanilla until well combined.

Mix in the flour, salt, baking soda, cinnamon, nutmeg, cloves, and baking powder until well combined.

Grease 2 loaf pans (or muffin pans if you prefer). Pour the zucchini batter mixture into the loaf pans and bake at 350F for 1 hour, or until a toothpick inserted into the middle comes out clean.

This bread will make your house smell amazing all day, and will provide you with bread to enjoy for days to come. We love this recipe at our home and hope you love it too! Enjoy!
Schema Image: