BBQ Pulled Chicken Sandwich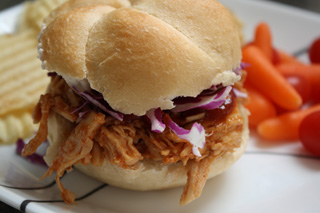 We have been on a pulled chicken craze lately. We bought roughly four pounds of chicken and just started boiling it up to see what kinds of tasty meals we could make. After a large batch of Chicken Tacos, we went for some BBQ style chicken.
I couldn't believe how easy it was to make pulled chicken, even with the frozen chicken. I didn't have to prepare anything. Just tossed it in a pot with some water and boiled. Voila! And we have gotten at least a week's worth of meals out of it. I had tried it in the crockpot with tons of spicing and soda and we tried just boiling chicken in plain water; after we put our favorite BBQ sauce on it, we couldn't tell the difference between the "plain" chicken and the seasoned chicken. So here is the easiest recipe for tasty BBQ chicken sandwiches. Check it out!
Ingredients for Pulled BBQ Chicken Sandwich:
2 lbs frozen chicken breasts, boneless and skinless
1 cup BBQ sauce, or to taste
1 serving Coleslaw (click here for our homemade recipe)
Kaiser rolls

Directions:
Put the chicken in a large pot and cover with water. Bring to a boil and cook for about 25-30 minutes or until the chicken reaches an internal temperature of 165F. Drain the water.

Then, use two forks to shred the chicken (as was mentioned in another post, it is easiest to shred the chicken in a 9" x 13" baking pan). Return the chicken to the pot.

Then, add the BBQ sauce and mix until thoroughly combined. Heat the chicken with the BBQ sauce on medium heat for 5 minutes or until the BBQ sauce is warm.

Serve on a Kaiser roll with your favorite coleslaw, a side of chips, and fruit. This is an easy meal to cook and makes for excellent leftovers! We put a serving of BBQ pulled chicken in one-cup glass storage containers to bring to work; then I can reheat my leftovers at work and put it on a tasty Kaiser roll. Hope you enjoy!
For a crockpot recipe for a BBQ pulled sandwich, check out our recipe on BBQ Pulled Pork Sandwiches. Just pop it in the crockpot before work and shred it when you get home for an easy dinner.
Schema Image: