The BEST Homemade Stuffing I've Ever Had!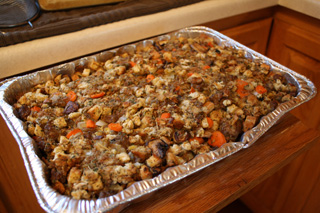 For the last four or so years, I have had the great pleasure of enjoying my mother-in-law's Thanksgiving dinner.  Every year, she seems to outdo herself with an evening tastier turkey, gravy, and stuffing than the year before.  After a couple of years of watching her, she showed me the secrets to her incredible recipes. 
For Thanksgiving 2011, I decided to share my "new"-found secret with my family and cooked my first ever Thanksgiving dinner.  I am pleased to say that it turned out spectacular!  Thanks Becca for being an awesome teacher!
Now I hope to pass along what I have learned to you. Today, we will be exploring the best stuffing I have ever had in my life. Check it out!

Ingredients:
2 packages of prepared seasoned stuffing
16 oz of sweet Italian sausage
1 stick or 8 tbsp of butter
1.5 cups of chopped onions (about 2 medium onions)
1.5 cups of chopped carrots
8 oz chopped baby portabella mushrooms
1 tsp each of thyme, sage, rosemary (dried)
½ cup chopped parsley
½ tsp of salt
32 oz of chicken broth
2 eggs

Directions:
Cook the Italian sausage. Drain extra grease and crumble the sausage. Set aside.

Sauté veggies in butter until soft, about 5-10 minutes.

In a large mixing bowl, mix the chicken broth and eggs. Then add the packages of seasoned stuffing, cooked sausage, sauteed vegetables, and seasonings. Refrigerate overnight.

With about 1 hour remaining, start baking the stuffing in a prepared (i.e. sprayed or greased) 9" x 13" baking pan in the oven for at 350F. Bakes for roughly 1 hour.

This stuffing is truly the perfect side to pair with your turkey recipe! Enjoy!
Schema Image: