For Your Long Wait, I Present Thanksgiving Turkey!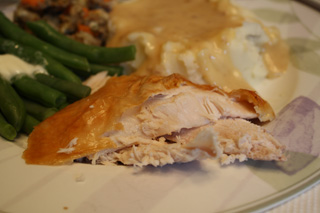 It has been an inordinately long time since last I posted. My apologies!  My only excuse is that school has started and I have little free time to myself.  That being said, my goal will be to maintain postings at least once a week.  I feel that this is a reasonable amount and hopefully you all will keep me inspired to post delicious foods to share!
Now, onto the turkey and gravy.   My mom handed me a coupon for $15 towards a Butterball Turkey and said "Here, you get it."  So I did.  And thus, our turkey-making adventure on Labor Day Weekend began!
Update: Here is an awesome stuffing recipe to go with it!
Thaw time: 3 days in the fridge
Prep time: 1 day before cooking (brining process)

Ingredients:
1 12-16 pound turkey
¼ cup kosher salt (not regular table salt)
2 medium yellow / Vidalia onions, cut into 1/8ths
2 medium carrots, cut into 1-inch chunks
2 medium ribs of celery, cut into 1-inch chunks (optional; I skip because I don't like celery)

Directions for the Turkey:
Dry brine it for 24-hours before. Rub kosher salt inside and out (again, must be Kosher salt as regular salt will not work).

Take the turkey out of the refrigerator an hour before roasting so it has a chance to come close to room temperature. Rinse the turkey inside and out to get all of the salt off of it. Pat it dry.

Dice the carrots, onions, and celery. Then stuff them into the turkey cavity. Place the turkey on the rack in the roasting pan breast side down. Scoop up any vegetables that fall out of the turkey.

Roast the turkey at 400 degrees with the breast side down. After 30 minutes, add one cup of water to the bottom of the pan to dilute the drippings and keep them reducing. Cook for another 30 minutes breast side down.

Then, using a wad of paper towels for each hand, flip the turkey so it is breast side up. You may need help to stabilize the pan. Insert a meat thermometer deep into the thigh. Add another cup of water to the bottom of the pan. Reduce heat to 350F. Turkey is done when it reaches around 164 degrees F (1.5 hours or so).

Let the turkey rest for at least one half hour before carving it. Set it on a platter or something that will contain the juices that will drip out and cover it with tin foil tent.

Ingredients for Gravy:
Drippings from bottom of roasting pan
32 oz of Chicken broth
½ cup flour
1 cup milk (fat free)

Directions for Gravy:
While the turkey is resting for an hour, start the gravy.

Add the fat and drippings to a large saucepan (or cook on the stove in the roasting pan). Turn the heat to medium-high and reduce any moisture to less than 2 tablespoons.

Then whisk in about half of the broth and bring it to a rolling boiling until the broth reduces by about half. In a measuring cup, whisk the 1/2 cup of flour and 1 cup milk together. Slowly pour the milk flour mixture into the broth mixture, whisking constantly. The high temperature opens the flour and helps it thicken the gravy.

Finally, add the remaining broth and reduce the temperature to simmer it. Cook off liquid until gravy is of desired consistancy.

Serve your turkey and gravy with a side of mashed potatoes!

Coming soon: homemade stuffing. Enjoy!
Schema Image: