Chocolate Brownie Trifle - A Chocolate Lover's Dream!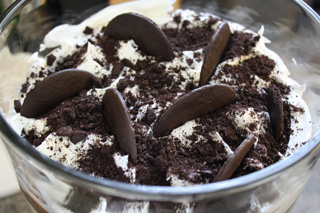 A gathering was upon us and I wanted to whip up something easy but delicious to share with our friends. Thus, the Chocolate Brownie Trifle was made.
It is a delightfully simple recipe that requires very little hands on preparation. You simply need a trifle bowl, brownies, whipped topping, cookie or toffee pieces, and chocolate pudding!
Ingredients:
1 box brownie mix (Betty Crocker Original Supreme)
1/4 cup oil
1/4 cup water
1 egg
1 box chocolate pudding
2 cups milk
1 container light whipped topping, thawed (Cool Whip)
1/2 cup chocolate wafer pieces (or toffee pieces)

Directions:
Preheat the oven to 350F. Prepare an 11" x 7" pan with cooking spray.
In a large bowl, combine the brownie mix, oil, water, and egg until well mixed. Pour into the prepared pan and bake for 31-34 minutes, or until toothpick comes out clean. Allow to cool completely. Then cut into 1" by 1" squares.

Whisk pudding mix and milk together for 2 minutes. Refrigerate until ready to use, but for at least five minutes to allow it to soft set.

Thaw out whipped topping by leaving it in the refrigerator over night or on the counter for roughly 1 hour.

Crush chocolate wafer pieces in a food processor.

Now that all of your ingredients are ready to go, start by lining the bottom of the trifle bowl with half of the brownie squares. Top with chocolate pudding. Add cookie pieces. Then add the whipped topping. Repeat with more brownie squares, pudding, and whipped topping. Then add the remaining cookie pieces to the top and add half wafers for decoration.

This incredible dish is truly easy to assemble and will make your guests go "Wow!" Enjoy!
Schema Image: