Cinnamon Roll French Toast!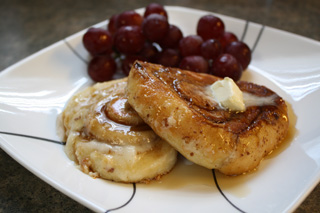 Now that we have made our Tasty Cinnamon Rolls from Scratch, it is time to cook up some Cinnamon Roll French Toast!  It's almost identical to the regular French Toast Recipe, but we are going to take our cinnamon rolls, cut them in half, and dip them, instead of the Texas Toast.  This is definitely a breakfast for those with a sweet tooth!
Ingredients (makes 4 slices):
1 egg, scrambled
1/2 cup milk
1 tsp vanilla
2 tsp cinnamon
2 cinnamon rolls, cut in half lengthwise
1 tbsp margarine

Directions:
In a small bowl, scramble 1 egg with a fork. Blend the milk and vanilla with the egg. Then add 1 tsp cinnamon into the mixture and stir until just blended. Cut the cinnamon rolls in half lengthwise.

Heat the margarine in a frying pan or griddle. Then, dip each side of the cinnamon rolls in the egg mixture, allowing excess to drip off.

Place the French Toast on the griddle and sprinkle more cinnamon on top. Cook each side for 3-5 minutes or until browned.

Plate the French Toast and add syrup! Serve a side fresh fruit with go with this deliciously sweet meal!

This tasty breakfast will please the whole family. Enjoy!
Schema Image: