Grasshopper Brownies - with and without coconut!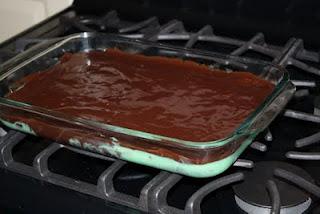 I was in Alaska last summer and visited a nice tourist town called Seward. While there, my sister and I wandered around and discovered this cute cafe/bakery place. I cannot for the life of me remember the name of the cafe, but I do remember that they had the most incredible brownies I've ever had. I tried looking up the cafe, but I wasn't able to find the name of these delectable brownies! So, I tried looking for recipes that included the parts I could remember: brownie layer and mint layer plus a bit of toasted coconut.
I searched online and found a recipe on epicurious for Grasshopper Brownies. It didn't call for any coconut, so I decided to conduct an experiment: one-third of my brownies would follow the original recipe, one-third would have a layer of coconut on top of the brownie, and one-third of my brownies would have the coconut mixed into the brownie layer.
Thus, my adventure for a tasty brownie-minty treat began...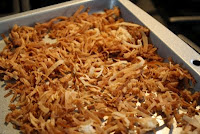 Brownie Layer Ingredients
1 box of Betty Crocker Fudge Brownies (or style of your choice)
2/3 cup oil
1/4 cup water
2 eggs
Brownie Layer Directions
Mix ingredients until well blended. Pour into a 9"x13" greased pan. Bake for 22-26 minutes at 350 degrees F.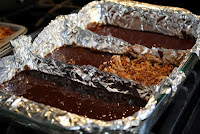 Mint Ganache Layer Ingredients
1/2 cup heavy cream
10 oz fine-quality white chocolate, chopped
2 tablespoons green creme de menthe
1 teaspoon peppermint extract
Mint Ganache Layer Directions
Bring cream and white chocolate to a simmer in a 2- to 3-quart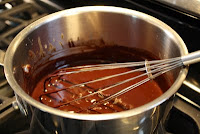 saucepan. Then, whisk until smooth. Stir in the creme de menthe and peppermint extract. Pour into a medium-sized bowl and chill, covered. Stir every 15 minutes or so, until thick. It takes about 1 hour.
Chocolate Ganache Layer Ingredients
1 cup heavy cream
10 oz fine-quality bittersweet chocolate (not unsweetened), chopped
Chocolate Ganache Layer Directions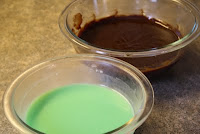 Bring cream and bittersweet chocolate to a simmer in a 2- to 3-quart saucepan and remove from heat. Whisk until smooth. Pour into a bowl and chill, covered. Stir every 15 minutes, until thick. It takes about 30 minutes.
Grasshopper Brownie - Assemble Layers
Pour the mint layer over the top and smooth with a spatula. You can either chill for 30 minutes and let the mint layer set, or you can pour the chocolate layer on immediately afterwards. I poured the chocolate on and didn't notice any problems. Just make sure the mint layer is well-chilled! :)
If you want to try your brownies with coconut, I found that I liked the coconut best when it was toasted (takes about 5-10 minutes on a cookie sheet at 350 degrees F) and mixed in to the brownie batter itself. After cooking the brownies like normal, add the "grasshopper" layers and you have coconut Grasshopper brownies!
I shared the brownies with my husband, mother, and step-father. They all enjoyed them! They are very rich, so I divided the brownies into very small squares (about 30 squares for a 9" x 13" pan). Absolutely wonderful recipe!
Schema Image: